Infineon profits boosted by smartphone demand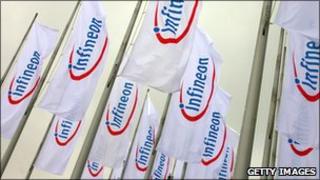 The continuing boom in smartphone sales has helped German chipmaker Infineon to a strong first quarter net income of 232m euros ($319m; £198m).
Net income for the same quarter in 2009 was 65m euros.
Infineon also raised its revenue outlook for the fiscal year to September 2010 on expectations of growth in the automotive sector.
Infineon makes chips for tablet computers, cars, home appliances and electronic passports.
"Going forward, we expect to grow faster than the market and see another quarter of revenue growth with consistently high margins," said chief executive Peter Bauer in a statement.
Infineon was spun off from German engineering giant Siemens in 1999.