Champions Chelsea report £70.9m loss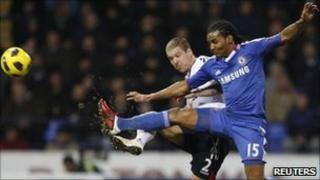 Chelsea has reported a £70.9m loss in the year to June 2010 - despite winning the Premier League and FA Cup.
The west London club said turnover was up 1.2% to £205.8m and that a reduced squad value was behind the loss.
From 2012/13, clubs will be banned from European competitions if they are spending more than they earn on football-related business.
Chelsea chief executive Ron Gourlay said the club was in "a strong position" to meet the rules, known as financial fair play initiatives.
The policy, set by European football's governing body Uefa, is designed to make it harder for clubs like Chelsea and Manchester City who rely on their owners to pay players' wages and bring in new talent.
Russian billionaire Roman Abramovich has bankrolled Chelsea since he bought it in 2003 and the club is debt free after he converted a shareholder loan into equity in 2009.
The club said that in 2009/10, it was cash positive for the first time under Mr Abramovich's reign, with £3.8m cash inflow.
'Right direction'
The club's overall loss was greater than the £44.4m seen the previous season but some way short of the record £140m loss announced by Chelsea in 2004/2005.
The club's operating loss - the amount by which costs such as player transfers and wages exceeded revenues - reduced from £72.3m to £68.6m.
"The reduction in operating losses and increased sales in 2009-10 shows that we are moving in the right direction, especially when viewed against the difficult macroeconomic environment," Mr Gourlay said.
The club looked set to stretch its finances further on Monday, as it prepared to break the British transfer record to buy Liverpool striker Fernando Torres for up to £50m.