Banker pay data called for by Treasury Committee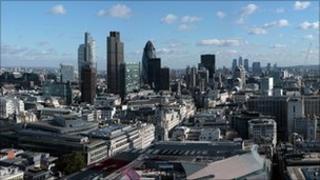 MPs have asked the City watchdog to reveal data on the number of UK bank employees earning more than £1m a year.
The Treasury Select Committee has asked the Financial Services Authority to collate the data.
But it said the information could be limited after banks complained about a risk to their competitiveness.
An FSA spokeswoman said that the letter had been received but could give no details on when the data would be released.
While bank board member pay is on the company accounts, remuneration data of other big earners is not available.
The Treasury Committee headed by Andrew Tyrie has been taking evidence from leading bankers in recent weeks, including the head of Barclays Bob Diamond.
While it is officially focused on competition in the UK banking sector, much of the committee's questioning has been around pay and bonuses.
"We remain concerned to ensure that remuneration structures are aligned with the interests of shareholders," Mr Tyrie said in his letter to FSA chief executive Hector Sants.
'Systematically significant'
The proposal to release the information was first put forward in Sir David Walker's review into the corporate governance of banks - released in 2009.
Mr Tyrie asked Mr Sants to release the data as recommended by the Walker review.
That includes FTSE 100-listed banks and the largest building societies disclosing, in bands, the number of "high end" employees, including executive board members.
The bands would show the number of people taking home £1m to £2.5m, £2.5m to £5m, and then in £5m bands thereafter.
Within each band, the main elements of salary, cash bonus, deferred shares, performance-related long-term awards and pension contribution should be disclosed.
Mr Tyrie also asked for details of all those earning the same as or more than the least well-paid executive board member at a firm.
He said the data could "provide a measure of disclosure on the number of highly-incentivised employees in our largest and most systematically significant banks".
Restricting the way the data was presented "should address the banks' concern about competitiveness", he added.