US consumer spending 'best in three years'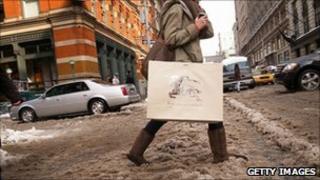 Consumer spending in the US grew at its fastest pace in three years during 2010, official figures have shown.
Spending grew by 3.5% from 2009 the Commerce Department said, the best showing since a 5.2% rise in 2007 - before the country went into recession.
The 2010 levels were helped by a strong December, where spending grew by 0.7%, the sixth consecutive month of growth.
Consumer spending makes up more than two-thirds of activity in the US, the world's largest economy.
Rising incomes and the faster increase in spending meant that the savings rate dipped slightly in December, the data showed.
Economists expect that spending and savings will be boosted further in 2011, if the job market continues to slowly improve and with a cut in payroll tax.
"As hiring picks up this year, income gains should accelerate noticeably, providing fuel for both modestly faster spending growth than in 2010 and a renewed rise in the savings rate," said Stephen Stanley, chief economist for Pierpont Securities,
However, there is concern over whether these gains will be enough to offset further cutbacks in government spending and the weak housing market.
Last week, figures showed that US economic growth accelerated in the last three months of 2010 to an annualised rate of 3.2%, up from a rate of 2.6% in the previous quarter, and better than had been expected.
And figures earlier this month showed that the unemployment rate fell to 9.4% in December which was the largest one-month drop since 1998.
However part of the reason for the drop was not just because more people found jobs, but also because 260,000 had given up looking.