Exxon Mobil profit lifted by oil price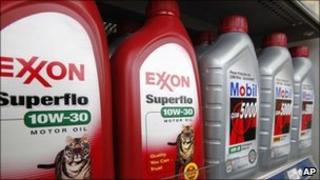 Rising oil prices and higher demand for fuel have pushed up profits at US oil firm Exxon Mobil.
The company reported a net profit for the fourth quarter of $9.25bn (£5.8bn), a rise of 53% on the same period a year ago, and ahead of analysts' forecasts.
Revenues rose 17% to $105.2bn from $89.8bn a year earlier.
Exxon also said that oil-equivalent production increased, lifted by its liquefied natural gas operations in the Gulf state of Qatar.
The company believes that natural gas will surpass coal as the world's second-largest energy source after oil by 2030.
Exxon has invested heavily in natural gas in recent years.
Rising demand
"Exxon Mobil will continue to invest in technology and innovation to develop new economic energy supplies to help meet this demand while looking for ways to reduce environmental impacts," said Rex Tillerson, chief executive officer.
The company believes environmental policies targeting carbon dioxide emissions will drive the uptake of natural gas.
Oil demand rose last year, and the US government expects another increase this year with demand from business and consumers rising as the global economy recovers from the downturn.
The results come after a recent setback when Exxon was forced to admit that it could not find oil in three deepwater wells off the Brazilian coast.