Egypt: Telecoms boss Sawiris confident of change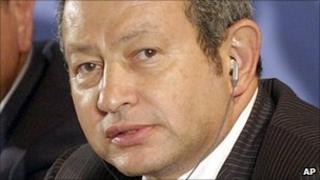 The continuing protests in Egypt have "changed the history" of the country, one of its leading businessmen has told the BBC World Service.
Naguib Sawiris, chairman of Orascom Telecom, Egypt's largest mobile phone network, told World Business News that the demonstrations would not stop until Egypt moved towards democracy.
Mr Sawiris added that he would like to see a new president, but praised Hosni Mubarak for not fleeing the country.
He said that would have caused turmoil.
Investment insurance
"Politicians now understand that unless they provide the people of Egypt with the real democratic needs they have, with the real right to live and work, and get a decent job, they will not be allowed to stay," said Mr Sawiris, speaking from Egyptian Red Sea resort of El Gouna.
Mr Sawiris added that the Egyptian business community also wanted democracy because "it is the best insurance of investment".
He also denied that corruption was a widespread problem in the country, saying that "Egypt, with all respect, is the least corrupt country in the Middle East".
Mr Sawiris said that while there was corruption in Egypt, it was mainly to be found within the government bureaucracy.
Despite running the country's largest telecoms company, he denied that he was close to the former government.
He confirmed that his mobile phone network was temporarily shut down by the government, a decision he described as "stupid".
Pent-up demand
Speaking from Cairo, Simon Kitchen, a strategist at investment bank EFG Hermes, said he was confident that business in Egypt would soon bounce back from the turmoil caused by the protests.
"During the day, you do see traffic on the roads [of Cairo] and people attempting to deliver goods," he said.
"Obviously tourism has been hit, but you do still see people at some of the hotels.
"Tourism does employ around 10% of the population, but you must remember that a lot of tourism is well away from Cairo.
"The key is if we see a fairly rapid resolution to this crisis, there is a lot of pent-up demand in the Egyptian economy that could be released. And some parts are already coming back to life."
'Happy'
Mr Sawiris also said that his business had suffered from attacks by protesters.
"My shops have been attacked and ransacked, and my main buildings have also been attacked," he said.
Despite this, Mr Sawiris said he remained positive about Egypt's future.
"I'm not dismayed, I'm actually happy," he said. "I have been a big advocate of democracy for a long time."
To listen to this interview in full, click here