Davos 2011: Lagarde rebuts Bob Diamond's euro comments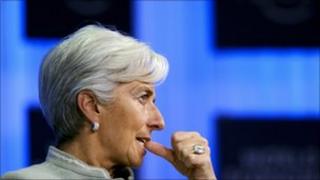 Christine Lagarde has become the latest European minister to defend the euro at this year's World Economic Forum in Davos.
She clashed with Barclays chief Bob Diamond, saying she disagreed with his comment that the situation in Europe had gone from "acute" to "chronic".
The French finance minister said the euro had "turned the corner".
She also urged people not to "short", or bet against, the euro and the eurozone.
"I don't think volatility in the markets has gone," Mr Diamond said.
"But what was an acute issue a year ago is at worst a chronic issue today."
Ms Lagarde defended eurozone ministers' actions, saying that last year they had acted swiftly and effectively in response to the debt crisis that gripped the Republic of Ireland and threatened to engulf Spain and Portugal.
"We got through that," she said, saying that ministers had managed to put together the 440bn-euro ($599bn; £378bn) rescue fund - the European Financial Stability Facility - in just a week.
On the current economic situation she added: "In terms of fiscal consolidation we are heading in the right direction."
'Thanks'
Later in the session, Mr Diamond paid tribute to how the G20 - which France is the current President of - had responded to the financial crisis.
"We should thank the regulators," Mr Diamond said.
"The G20 came together... that was very beneficial for the banking sector."
Christine Lagarde responded by saying that "good financing and sensible compensation" would be better forms of thanks.
Both French President Nicolas Sarkozy and German Chancellor Angela Merkel have used their addresses at this year's World Economic forum to strongly defend to the euro.
"Whether it be [German] Chancellor Merkel or myself, never will we turn our backs on the euro. Never will we abandon the euro," Mr Sarkozy said.
Mr Sarkozy also sparred with a bank boss in his session earlier this week.
JP Morgan boss Jamie Dimon urged him to avoid introducing regulation "out of anger" while France was head of the G20.
The French president hit back, saying banks had done things which "defied common sense" and should not resist more regulation.
"If people present me as obsessed with regulation, it's because there is a need for regulation," Mr Sarkozy said.