Pontin's holiday firm bought by Britannia Hotel group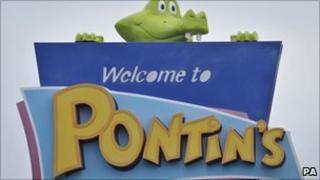 Holiday camp company Pontin's has been bought by Britannia Hotel Group, saving 850 jobs, administrator KPMG has announced.
The company, which runs five parks, had been placed into administration in November last year.
Pontin's had insisted that it remained profitable, saying it had been a victim of the credit crunch and struggled when its bank withdrew support.
Britannia Hotel Group operates 36 hotels around the UK.
"We are delighted that we have been able to rescue the great British institution of Pontin's. It holds a treasured place in the hearts of many people and it represents an important part of our shared heritage," said Alex Langsam of Britannia.
He added the firm's success had been in part to "adopt neglected properties and make the necessary investment to restore them to their former glory".
"Our extraordinary buildings are enjoyed by ordinary people. This is a formula that has given us a thriving and sustainable business over the years and we are thrilled to be given the opportunity to work the same magic with Pontin's."
The sale to Britannia as a going concern was a "fantastic result", said Rob Croxen, restructuring director and joint administrator at KPMG.
He added that wealthy individuals, private equity houses, property developers and trade buyers had all expressed an interest.
Trend
Pontin's, known for its Bluecoats entertainers, was established in 1946 and at its height owned more than 30 parks.
But industry observers said that Pontin's had suffered in a very competitive market place, with operators such as Butlins and Havens more successful in taking advantage of UK holidaymakers' desire for budget getaways during the downturn.
The company was bought by Oceans Park for £46m in 2008.
The five sites are at Brean Sands, in Somerset; Camber Sands, in Sussex; Pakefield, in Suffolk; Prestatyn Sands, in Denbighshire; and Southport, in Merseyside.