Solar subsidy 'to be protected'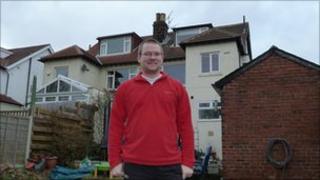 The government has pledged it will act if commercial operators rush to exploit a subsidy aimed at encouraging homeowners to generate their own solar electricity.
The feed-in tariff scheme was launched last April.
It promised a typical household earnings of £800 a year and savings on their bills of £120.
Energy Minister Greg Barker said he was worried industrial scale projects could eat into the scheme's budget.
Generous returns
If too many large enterprises apply for the tariff, it could make it more difficult for ordinary households to sign up.
Greg Payne from Leeds is one of thousands of people considering whether to install solar panels.
His roof is unsuitable for the panels but he has been advised he might be able to install them on a frame in his garden.
It would cost him around £10 000 to put in, but if they are south-facing and unobstructed, they would generate 41.3p per kilo watt hour, which would be index linked and guaranteed for 25 years.
If Mr Payne can find the cash for the installation, he believes it could be money well spent, as he told Radio 4's Money Box programme:
"It is a decent return, it is better than an investment account. It could certainly be a goer," he said.
Commercial exploitation
The government has pledged just under £400m for the feed-in tariff scheme until 2014.
More than 19,000 UK households have already registered to take part.
There are fears that unless homeowners like Mr Payne install soon, the money could be used up by commercial enterprises claiming the money.
Too many companies are jumping on the bandwagon, according to Greg Barker, the Minister for Energy and Climate Change.
"I am concerned. There have been some very ambitious statements from large companies about the size of solar exploitation," he said.
"If I see that large scale solar projects on an industrial scale stand to take a disproportionate amount of the money that is there to be spread widely for homeowners and small businesses, I will act."
Higher bills
Others are critical that the cost of the feed-in tariffs will be born by those least able to afford it who cannot install solar panels themselves. The government admits around £6.7bn will be put on electricity bills between 2010 and 2030 to pay for the scheme.
Environmental campaigner and writer George Monbiot believes it is unfair.
"The people who are most likely to benefit from this are going to be householders who have got their own home and can stump up the £10,000 or so upfront costs."
The government however said many social housing projects were also installing solar panels and so their residents were also benefitting.
Mr Monbiot believes the £6.7bn would be better spent on measures such as encouraging people to insulate lofts.
The government said money would be made available for this when it launched its "Green Deal" next year.
BBC Radio 4's Money Box is broadcast on Saturdays at 1200 GMT, and repeated on Sundays at 2100 BST.