Rising trade in 'take-away' homes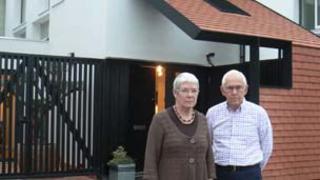 People looking for a new house are being told they could save thousands of pounds by buying one that is made in a factory.
A new report says prefabricated homes are very different to those of 60 years ago.
They last longer, buyers can get a mortgage on them and they are 10% cheaper to buy, the report says.
The Royal Institution of Chartered Surveyors said buyers could also save hundreds of pounds a year on heating.
Take-away
"We do any height, any length, any width," said Tony Fox, on a tour of the Future Form factory near Northampton.
Here they make what are, in effect, take-away homes.
They come complete with shower units, beds, and even the kitchen sink.
"You can have a house, student accommodation, or even a hotel suite," Mr Fox said.
Semi-complete units, looking a little like shipping containers, stand ready for collection in the car park.
Overnight, these are lifted onto the backs of lorries and taken to a site in north-west London, where they are assembled into the second-highest modular building in Britain.
In the space of half an hour, the electricity, water, gas and drainage can be connected up, and after walls and a roof have been added, the unit is ready to move into.
'Cheaper'
According to the Royal Institution of Chartered Surveyors (Rics), such units can cost far less than conventional houses.
In a report out this week, it said that a basic home unit could now be purchased for as little as £30,000, plus the land.
"For an equivalent house on the same site, you are talking about 10% cheaper," said the report's author, Chris Goodier, from Loughborough University.
"But the quality and specification is very much higher on these types of building, because they are built in a factory environment."
Unlike post-war prefabs, it is now also possible to get a mortgage on the modern-day equivalent.
After all, they are designed to last for between 60 and 80 years.
Among the lenders which are offering such an option is Spanish bank Santander.
"We fully support the initiative and as a lender we are already involved in a pilot to assess a number of properties and offer lending upon them," a spokesman said.
Heating costs
Ben Taylor and his wife Marlene were among the first to move into an estate in Harlow, Essex.
They may not have any neighbours yet, but they are already loving the cost of living here.
It was cheaper to buy, and cheaper to heat as well, Mr Taylor said of his new modular home.
"This is well-insulated. It does not require much heating. It is easy to keep clean and easy to maintain," he said.
"Overall, we are very happy with it."
One other maker of modular homes, Cub, said that such units could be supplied with heat and electricity for as little as £56 for a year.
Built to last
The units being created at the factory in Northampton are now arriving at a building site next to Wembley stadium, where a new tower is under construction.
Along with another, it is said to be the second-highest such building in Britain.
"The kitchen units are so big, we are having difficulty getting the space to lift them," the foreman said.
Nevertheless the units are being rapidly stacked, one on top of the other, and are soon connected up.
On this sort of scale, the Rics report says modern-day units could help solve the nation's housing crisis, as unlike the old prefabs, these ones are built to last.