Davos 2011: Doha round 'should finish by end of year'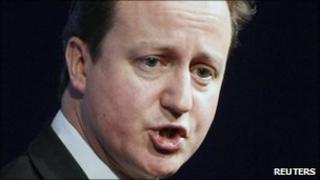 The Doha round of trade talks needs to be completed by the end of this year if it is to be a success, a report by high level trade experts has recommended.
UK Prime Minister David Cameron welcomed the report and said 2011 would be the "make or break" year for Doha.
The Doha Round was launched in 2001 to boost the world economy and to stimulate growth and wealth in developing countries through trade.
But the talks stalled in 2008 over disagreements over agriculture imports.
At a session on trade at the World Economic Forum in Davos, David Cameron urged the assembled leaders to tell their trade negotiators "not to hold back" so that a deal could be done this year.
Peter Sutherland, the former World Trade Organization (WTO) director general, called for a deadline of December this year.
If an agreement was not reached by then, he said, talks could run on "for some time to come" as electoral cycles, particularly in the US, would begin.
He said what was on offer, particularly for the poorest nations of the world, was "really phenomenal".
German Chancellor Angela Merkel also challenged governments to conclude the global trade talks. "Decades will go by without this opportunity offering itself again."
The European Union - the world's biggest exporter - will host a dinner of trade ministers later at the World Economic Forum in Davos.
Ministers from Brazil, China, India and the US, whose leadership Mr Sutherland said would be crucial, are expected to attend.
Insurance policy
The latest report is from a group of trade experts set up by the governments of the UK, Germany, Indonesia and Turkey to consider actions needed to combat protectionism and boost global trade.
In their report, they said an agreement this year would provide "an insurance policy against future protectionism" and would reinforce the WTO system.
Mr Cameron said: "We've been at this Doha round for far too long. It's frankly ridiculous that it has taken 10 years to do this deal."
"We simply cannot spend another 10 years going round in circles."
However, on Thursday WTO director general Pascal Lamy said the next stage of the Doha talks would be the first one "where some developing countries will pay a price in terms of market access in manufacturing, in agriculture, in services".