Davos 2011: Lagarde considers bigger euro rescue fund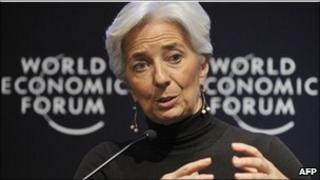 The eurozone's financial bail-out fund - used to rescue the Irish Republic - could be enlarged, the French finance minister says.
Speaking at Davos, Christine Lagarde said leaders were discussing expanding the European Financial Stability Facility (EFSF) if needed.
The EU may also use the EFSF to buy back national bonds, she said.
There have been concerns that more funds would be needed to help indebted countries such as Spain and Portugal.
'Embrace competitiveness'
Speaking later on Friday at Davos, German Chancellor Angela Merkel reiterated her warning that "indebtedness" was the "biggest danger" for Europe's prosperity.
"We have got to work against that and embrace competitiveness," she added.
She said that markets were still not totally convinced that indebted eurozone nations would be able to pay what they owe.
Mrs Merkel said that despite speculators being blamed for the problems being experienced by some economically troubled European nations, the speculation had a "root in reaility".
Her formula for the future economic prosperity of Europe was for countries to reduce debt, boost competitiveness, and work more closely politically.
She said that other countries should follow Germany's example of austerity, adding that "savings measures and growth are not opposites".
In addition, Mrs Merkel said it was crucial that the Doha Round of world trade talks, which have been stalled for a decade, was agreed this year, and also that a new enhanced European stability and growth pact was put in place.
'More efficient'
It came after news that finance ministers have been examining ways to use the whole 440bn euros ($603bn; £379bn) in the EFSF fund, set up in May last year to try to protect the eurozone by rescuing troubled member states.
It is financed by the eurozone members themselves and has been used to support the Irish Republic.
However, immediate fears about the need for any future bail-outs have ebbed recently after both Portugal and Spain raised money at lower interest rates than had been feared - a sign of improving investor confidence.
"We are working on making the EFSF more efficient, more flexible, and if it needs to be bigger for that matter, so be it," Ms Lagarde said.
'Working document'
Also on Friday a spokesman for EU economic affairs commissioner Olli Rehn said lending Greece money to buy back its bonds on the open market was "one option" being examined.
It came after Greek finance minister George Papaconstantinou, also in Davos, said discussions about such an option were taking place.
Greece's bonds are trading below their face value, so if it had the available funds the country could buy its bonds back at a discount and cut its debt.
However, the option is not a proposal but merely an internal "working document", Mr Rehn's spokesman said.
Greece was rescued from bankruptcy last May thanks to a 110bn-euro rescue loan package from eurozone nations and the International Monetary Fund.
However, it has yet to access EFSF funds.
'One avenue'
The EU's leading economic power, Germany, has led calls resisting an increase in the size of the EFSF, with opponents saying that increasing the fund may encourage economic laxity.
Meanwhile, Ms Lagarde also said the possibility of buying back national bonds was being discussed by EU finance leaders.
"I don't think there is yet general consensus because it's again work in progress," she said.
"But it's clearly one avenue for the EFSF to actually get involved in markets."
This could help eurozone countries, such as Greece, to borrow much-needed funds at lower interest rates than are currently being demanded by investors.