UK consumer confidence in 'astonishing' fall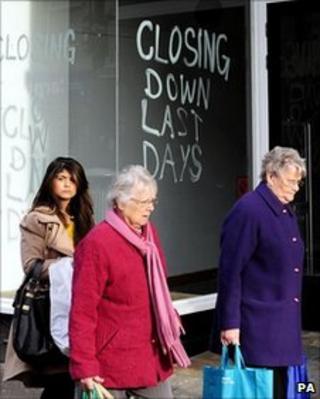 The confidence of UK consumers in the economy and their finances has suffered its biggest monthly drop in 16 years, a survey has suggested.
Rising VAT was a key factor behind the "astonishing" confidence fall, the GfK NOP Social Research report said.
The UK faced a "very painful period", it added.
More government austerity measures and the surprise contraction in the economy meant talk of a double dip recession was "unavoidable", the study said.
Expectations
According to the GfK NOP Social Research report the eight-point fall in a key measure of consumer confidence between December and January, to minus 29, was the biggest monthly drop since the end of 1994.
Meanwhile, the index representing people's expectations of their financial situation over the next year slid to minus 12, down from plus 4 a year ago.
And the score for expectations for the economy over the next year was minus 30, compared with minus two a year ago.
Earlier this week official figures showed that UK GDP shrank by 0.5% in the final three months of 2010 - as the freezing December weather caused major disruption across the economy.
And last week, the Office for National Statistics said that the rate of CPI inflation had risen by more than expected to 3.7%.
Meanwhile at the beginning of this month - the standard rate of VAT increased from 17.5% to 20%.
"The VAT increase is the first of the government's austerity measures that has had a widespread impact on consumers, and it seems to have hit people's economic confidence hard, especially as the biggest drop was in consumers' appetite for major purchases," said GfK's managing director Nick Moon.
"With inflation on the up and the full force of the cuts yet to hit, these figures could be the beginning of a very painful period.
"There is a chance that these figures represent a post-Christmas blip but even if there is a rally in February it is extremely unlikely that it will reverse this massive drop."
Spending 'squeeze'
On Friday, analysts said that the rise in VAT appeared to be a key factor in declining weekly sales at department store John Lewis, which fell 2.2% on the same week a year earlier.
"The slowdown in John Lewis sales is particularly notable as the company has been clearly out-performing the retail sector as a whole," said IHS Global Insight economist Howard Archer.
"The John Lewis figures suggest that consumers are becoming increasingly less prepared, or less able, to spend as higher inflation and muted earnings growth squeezes their purchasing power."
However, John Lewis said it was difficult to make comparisons with last year, as snowfall in January 2010 had created fluctuations in trade.