Smartphone demand helps Samsung fourth quarter profits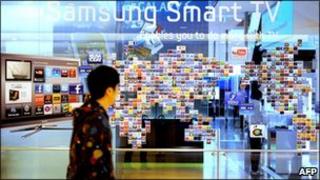 Demand for smartphones has helped South Korea's Samsung Electronics to a strong fourth quarter profit.
Net profit was 3.42 trillion won ($3.1bn; £1.9bn) compared with 3.04tn won in the same quarter in 2009.
However, the figure was down from the third quarter, when profits had hit 4.46tn won thanks to higher sales of flat screen TVs.
Growth in the smartphone sector is expected to help the company boost profits this year.
Samsung hopes that interest in its Galaxy range of smartphones and tablet devices will help it to offset the slowdown in the sale of memory chips and flatscreen TVs.
Profits for Samsung's mobile and telephony division were 1.44tn won in the fourth quarter, against 1.05tn won in the fourth quarter of 2009.
"Samsung is moving in the right direction into smartphones and tablets. Rising competition is a concern but the pie is also growing," said Cha Kyung-jin, a fund manager with Golden Bridge Asset Management, which owns Samsung shares.
The weaker value of the won has helped Samsung Electronics, the world's biggest technology company by sales, compete with Japanese rivals such as Sony.
However, there are concerns that the currency may rebound in 2011 and hurt South Korean exporters.
Samsung is one of South Korea's largest business conglomerates - or chaebol - with interests in areas as diverse as home appliances, memory chips and liquid crystal displays.