Amazon Kindle e-book downloads outsell paperbacks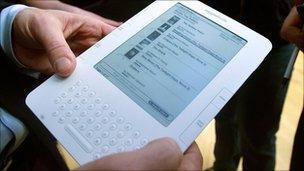 Amazon has announced that in the US it sold more e-books for its Kindle device than it sold paperback books in the last three months of 2010.
But its profit margins were down as it spent money on discounting, acquisitions and building new depots.
Amazon shares fell 9% in after-hours trading as its sales were not as good as had been expected.
Three month net sales passed $10bn for the first time, up 36% to $12.95bn, but analysts had predicted a higher figure.
Three month net income came in at $416m (£262m), which was up 8% from the same period last year.
The world's biggest online retailer's operating margin declined to 3.7% from 5% at the end of 2009 and the company warned that it would be between 2.8% and 3.8% in the first three months of 2011.
Its recent acquisitions have included Diapers.com and the DVD mail-order and streaming business Lovefilm.
Amazon announced that in the US since the start of the year it had sold 115 e-book downloads for every 100 paperback books, even excluding its downloads of free books.
But it stressed that sales of paperback books were also growing.
"Last July we announced that Kindle books had passed hardcovers and predicted that Kindle would surpass paperbacks in the second quarter of this year," said Amazon boss Jeff Bezos.
"So this milestone has come even sooner than we expected - and it's on top of continued growth in paperback sales."
It has not said how many of its Kindle devices it has sold, but did say that they had overtaken the final book in the Harry Potter series to become the top-selling item in Amazon's history.
Amazon shares have risen nearly 75% from their low-point of $105.80 in July.
Related Internet Links
The BBC is not responsible for the content of external sites.