Russia and Exxon Mobil sign Black Sea oil and gas deal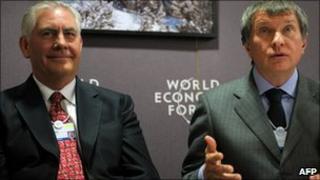 Russia's Rosneft and US firm Exxon Mobil have signed a deal to develop offshore oil and gas in the Black Sea.
The value of the deal, signed in Davos, is not known. Exxon Mobil will invest $1bn (£626m) into exploration.
Earlier this month, Rosneft, controlled by the state, and BP agreed to swap shares and create a joint venture to exploit Russia's Arctic shelf.
BP's Russian partners in another joint venture, TNK-BP, have taken legal action over the Rosneft-BP partnership.
Dispute
Stan Polovets, head of the AAR Consortium of TNK-BP's Russian shareholders, was quoted by Russian media earlier this month as saying that AAR lawyers were looking into whether the Rosneft-BP deal violated TNK-BP's shareholders agreement.
Mr Polovets said that under the agreement, both AAR and BP should get involved in new projects in Russia exclusively through TNK-BP, unless one of the partners refused to participate in the project.
Russian Deputy Prime Minister Igor Sechin, who is also Rosneft's chairman, said in Davos that he was going to meet TNK-BP shareholders soon.
He added that he was confident that all the differences could be overcome.
BP's chief executive, Bob Dudley, said on Wednesday that BP fully abided by the TNK-BP shareholders agreement and intended to inform TNK-BP's Russian shareholders shortly about its partnership with Rosneft.
'Improved investment climate'
Speaking of the deal with Exxon Mobil, Mr Sechin said that it proved that Russia's investment climate had improved.
"We have managed to convince even Exxon of that," he said.
Exxon Mobil and the Russian government have argued in the past over the cost of developing the Sakhalin-1 project in Russia.
Neil Duffin, president of Exxon Mobil, said about the Black Sea deal: "I am confident that Rosneft and Exxon Mobil will continue to enjoy the same sort of success they achieved at Sakhalin-1 and will continue to have the same spirit of co-operation and partnership and develop it in the Black Sea."