Nintendo profits fall on lower Wii and DS sales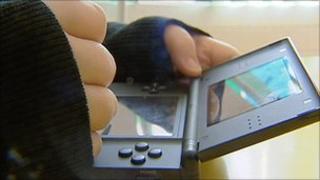 Profits at Nintendo have fallen after sales of its DS gaming device fell ahead of the launch of a new model.
The company behind the Wii console said net profits fell 74% to 49.5bn yen ($598m; £376m) in the nine months to the end of December.
Nintendo also cut its sales forecasts for the DS and Wii, on the day that rival Sony unveiled its own handheld gaming device.
Nintendo also blamed the strong yen for 84.4bn yen in exchange rate losses.
While sales during the run-up to Christmas were "robust", the numbers fell short of the US sales record set by the Wii and the DS in the previous year, the company said.
Nintendo now says it will sell 16 million Wii consoles in the financial year to the end of March 31. This is 1.5 million fewer than it predicted in its previous forecast.
The company cut its sales estimate for the DS by 1 million to 22.5 million units. Nintendo is launching a new 3D-capable DS, which goes on sale in February and which the company forecasts will sell 1.5 million units in the first month.
But Nintendo is facing tough competition in gaming market from Sony, Microsoft, and Apple's iPhone and iPod Touch.
On Thursday, Sony unveiled a new handheld gaming device, the first to feature 3G wireless connectivity, due to go on sale in late 2011.
The new machine, known as NGP for short, has a motion sensor and GPS location technology so that gamers can tilt and sway the machine, to play such games as golf, and experience other "virtual realities".