Davos 2011: Dimon warns of debt restructuring risk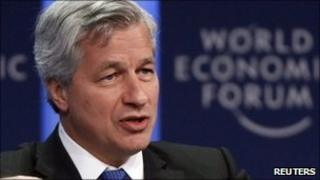 Forcing eurozone countries to restructure their debt would be "far too risky", the head of US bank JP Morgan Chase has warned.
Jamie Dimon said doing so could result in banks taking losses and needing to be rescued.
Mr Dimon was speaking on day two of the World Economic Forum in Davos.
He later told French President Nicolas Sarkozy that he was concerned that "bad policies" could impede economic recovery.
Addressing the president from the floor during the Q&A session following Mr Sarkozy's keynote address, Mr Dimon urged regulators not to enact policies "out of anger".
"Don't be accusatory of us," Mr Sarkozy replied. "We will be reasonable, but we will be wise."
Mr Sarkozy had earlier issued a staunch defence of the euro and also called for the mandate of the International Monetary Fund (IMF) to be expanded. He was addressing the forum about the topics that would be on the G20's agenda under his leadership.
Risking a run
In his session, entitled The Next Shock: Are We Better Prepared? Mr Dimon said: "I think Europe did the only good choice, which is to get through this crisis, because if you don't fix it here, you're going to fix it there, which is in the banking system.
"I think that would be far too risky," he added.
He said that allowing a eurozone debt restructuring could trigger a run on the banks, requiring governments to step in to help banks that hold eurozone debt.
The EU has so far refused to allow Greece or the Irish Republic to default, instead providing billions of euros in emergency loans to allow them to refinance their debt.
But there are plans for a permanent mechanism to help any eurozone nation crippled by debts to come into force in 2013, which would require private sector bondholders to share the cost of any debt restructuring on a case-by-case basis.
Speaking separately at the forum, Greece's Prime Minister George Papandreou admitted that the question of restructuring had been raised.
But he said: "I can say that we're not going to default. I also say we're not moving to restructuring."
'Not all the same'
Mr Dimon also defended the US banks that did not take money from the government's Troubled Asset Relief Program (Tarp).
"Not all banks needed that Tarp. A lot of banks were stabilising forces trying to make up for other banks," he said, citing JP Morgan's takeover of Washington Mutual and Bear Stearns, and Wells Fargo's takeover of Wachovia.
"We were all lumped together unfairly. I wouldn't lump all the media together," Mr Dimon said.
"Not all banks are the same, [just as] not all media are the same."
Reuters reported that the heads of some of the world's biggest financial firms, including Mr Dimon, later met at a private fringe meeting to discuss issues facing their industry, including the eurozone debt crisis.
"We are working through a range of ideas of how to work together," Howard Lutnick, chief executive of private investment bank Cantor Fitzgerald, told the news agency.
Attendees also reportedly included Barclays' Bob Diamond and Prudential chief executive Tidjane Thiam.