Police warning over rise in Devon heating oil thefts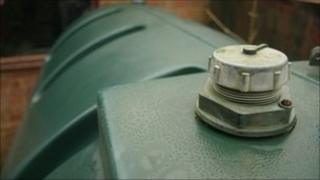 A sharp rise in the number of thefts of heating oil has prompted a security warning to users in parts of Devon.
Devon and Cornwall Police said thousands of pounds worth of fuel has been stolen over the past few months.
The quantity of oil stolen in the county is said to run into thousands of litres.
A police spokesman said with prices for the commodity at a high level, there was "a great temptation" for people to steal it.
"Once they do manage to access oil is just as easy to steal one litre as it is to empty the tank," Sgt Richard Crosby said.
Heating oil users have been advised to ensure their oil tank is locked and protected.
"Alarms are easy to buy and install with no special skills or tools required," Sgt Crosby said.
"Being cold is no fun, and a few simple precautions will go a long way to protect you."
Information about alarms and locks should be available from heating oil suppliers or the internet, he added.
Earlier this week the Office of Fair Trading said it would investigate the market for heating oil and other "off-grid" energy following public concern about high costs, particularly over the cold winter weather.
According to figures from the Office for National Statistics, the price of liquid fuel has increased by nearly 50% in the past year.