Starbucks warns over rising cost of coffee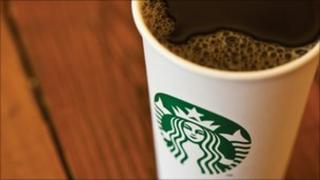 Starbucks has said that the rising cost of coffee will weigh down its profits this year.
The US cafe chain chose not to up its profit forecast for the year, despite reporting rising sales and record profits in the past three months.
The firm made net earnings of $347m (£218m) in the last quarter of 2010, up 44% on a year earlier.
But investors were more concerned by its rising cost base, and shares in the firm fell 3% in after-hours trading.
"The strong momentum in our global business in fiscal 2011 positions us to... reaffirm our 2011 guidance despite dramatically higher coffee costs," said chief financial officer Troy Alstead presenting the company's latest results.
Wholesale coffee prices have risen by nearly three-quarters since last summer.
The rise has been driven by poor weather in Colombia and fears over crop diseases, as well as rising global demand.
Starbucks said it now expected profits to be closer to the $1.47-per-share top end of the guidance previously given.
However, markets had expected the firm to raise its guidance for 2011 profits to $1.49 per share.
For the past three months however, business was surprisingly strong, with earnings 15% higher than the market had expected.
Revenues were up 8% on a year ago at $3bn, as Starbucks outlets saw a greater volume of customers, particularly in the US.
The firm said the higher sales at stores helped boost its profit margins, offsetting at least for the time being the higher cost of coffee.