Bank mortgage approvals drop 10% in 2010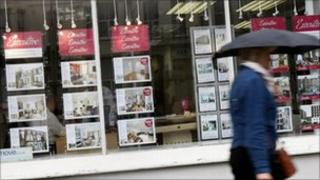 The number of mortgages approved for house buyers by the UK's main banks fell by 10% in 2010.
The British Bankers' Association (BBA) says its members approved just 400,000 mortgages between them.
That meant the number of approvals was at its lowest level in 11 years, apart from 2008.
The BBA said unsecured lending, such as credit cards and bank loans, was also depressed.
"Mortgage demand was weak throughout the year," the BBA said.
"Unsecured credit demand was also weak during last year, with net lending reducing by £2bn as households adopted a lower appetite for credit due to the uncertain environment for employment and the economy."
The BBA's figures underline the subdued state of the UK property market.
Last week, the Council of Mortgage Lenders reported that the value all new mortgage lending, including remortgaging and equity withdrawal, fell to its lowest level for nine years in 2010.
At the same time, HM Revenue & Customs said that the number of homes sold in the UK during 2010 stood at just 885,000.
Although this was 27,000 more than the previous year, it was just over half of the peak recorded in 2006 and 2007.