Heritage Oil finds 'major gas field' in Iraq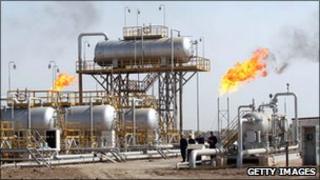 British exploration firm Heritage Oil has announced the discovery of what it is calling a "major gas discovery" in the Kurdistan region of Iraq.
Heritage said it estimated the field could have up to 12.3 trillion cubic feet of gas, with a flow rate of 75m cubic feet per day when the field is operational.
However, shares in the company fell 75.9p, or 17%, to 360.7p on the news.
Investors had been expecting Heritage to find oil in the Miran West field.
The infrastructure for getting gas to its ultimate markets is not as highly developed in the region as the infrastructure for oil.
"The discovery of a major gas field with exceptional flow rates makes this one of the largest gas fields to be discovered in Iraq," said Heritage chief executive Tony Buckingham.
One potential option for the company is to route gas from the field to wealthy European markets via the planned Nabucco pipeline, although the pipeline itself is not due to be operational before 2015.