Another Bank of England policymaker votes for rate rise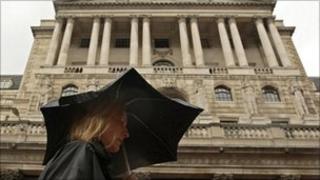 Bank of England policymaker Martin Weale has joined Andrew Sentance in voting for an interest rate rise.
Minutes of the Monetary Policy Committee's most recent meeting show members explicitly discussed the case for raising rates in January.
For most members the risks to inflation "in the medium term had probably shifted upwards," the minutes said.
But this was before Tuesday's shock news that GDP growth has contracted and a warning that inflation could hit 5%.
Six members voted to hold rates and Adam Posen repeated his earlier votes to re-start the policy of money creation known as quantitative easing.
Inflation path
"For two members, the evidence suggested that the balance of risks was already sufficiently clear to warrant an immediate increase [in interest rates]," the minutes said.
Mr Sentance has long advocated a rate rise, and at the MPC meeting on 12-13 January he was joined by Mr Weale in voting for raising the Bank Rate from its current historic low of 0.5% to 0.75%.
CPI inflation has exceeded the Bank's 2% target by more than one percentage point for more than a year, and rose to 3.7% in December.
On Tuesday, Bank England governor Mervyn King forecast that inflation could rise to 4-5% in the coming months because of higher food and fuel prices and a rise in VAT.
However, he added that inflation would fall back sharply in 2012, a belief that appeared to be shared by most MPC members.
The minutes say: "The balance of risks continued to suggest that inflation would fall back to around the target once the impact of the factors boosting it had dissipated."
'Sharp tightening'
Some MPC members were concerned a rate increase could be "misinterpreted as a signal that the committee would attempt the bring inflation back to the target excessively rapidly".
A "relatively sharp tightening" could hurt activity and confidence, the minutes say.
Analysts said that there was evidently now much more concern about inflation on the MPC.
Howard Archer, of Global Insight, said: "With Martin Weale joining Andrew Sentance in voting for an interest rate hike in January and the MPC considering the case for such a move, there is now a clear tightening bias within the MPC."
However, the meeting took place before the surprise news that the UK economy had contracted by 0.5% in the last three months of 2010.
Although severe weather hit activity in the quarter, the Office for National Statistics said that even if there had been no winter freeze weather economic growth would still have been "flattish".
Economists believe this sudden reduction in GDP makes the chances of a rate rise less likely.
Vicky Redwood, of Capital Economics, said: "January's MPC minutes suggest that the Committee was edging closer towards a near-term rate hike - but of course yesterday's weak GDP figures have altered the picture somewhat."
Meanwhile, the MPC minutes also showed that Adam Posen repeated his call for a £50bn expansion to the Bank of England's quantitative easing programme.