South Korea economic growth slows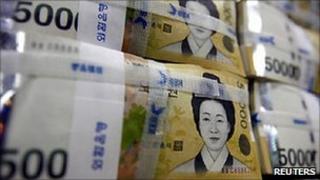 South Korean economic growth slowed in the final three months of last year to 0.5%, from 0.7% the previous quarter, as retail spending and manufacturing production slowed.
For the full year, however, growth hit an eight-year high of 6.1%, the Bank of Korea said.
Despite the slowdown in the final quarter, analysts expect growth to pick up again in the current quarter.
Earlier this month, South Korea raised interest rates unexpectedly to 2.75%.
This was the second time in three months that the central bank had raised rates in an attempt to cool rising prices.
Analysts said the latest growth figures meant the central bank would be unlikely to raise rates again in the near future.
"Compared with the third quarter, the manufacturing and construction sectors showed a decline," the central bank said.
"Private consumption also declined, but exports increased."
The bank's head of economic statistics, Jung Youg-Taek, said: "We can say the country has now got out of the global financial crisis. The domestic economy will continue to expand every quarter this year, although there could be some ups and downs."
South Korea is Asia's fourth-largest economy and is home to electronics giants Samsung and LG.