WH Smith sales hit by bad weather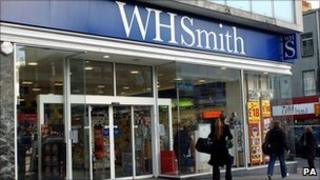 Sales at WH Smith have fallen in the last few weeks, with the bad weather cited as a key reason.
The retailer said in a trading update that total group sales fell 4% in the 21 weeks to 22 January.
At the High Street stores, like-for-like sales - which ignore store openings and closures - were down 6%.
Chief executive Kate Swann described the performance as "solid" despite the weather, but warned that the trading environment would "remain challenging".
Sales at WH Smith's travel outlets open over a year were down 3% over the 21-week period.
Ms Swann said in a statement that gross margins were ahead of plan, and that "overall performance for the period was in line with expectations".
But she added: "Looking ahead, we expect the trading environment to remain challenging and we have planned accordingly."
The retailer has been focusing on main trading categories such as stationery and books, and away from lower-margin areas such as DVDs and CDs.