National Insurance payments 'not misplaced', says HMRC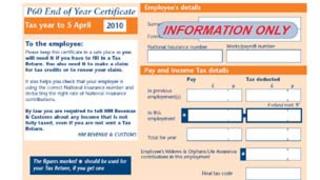 The UK tax authorities have rejected suggestions that they have lost £1.3bn in National Insurance contributions.
Ian Liddell-Grainger, who chairs the All Party Parliamentary Taxation Group, had said HM Revenue & Customs was "sitting on an NI time bomb".
He said unaccredited contributions for more than nine million people had built up in the past five years.
But HMRC said the idea that people's state pension entitlement might be affected was "nonsense".
"No-one should have a reduced pension. We write to people where we see there is a gap in their contributions and if they contact us to report a gap we deal with the situation immediately," an HMRC spokesman said.
Between 2004 and 2009 about 9.3 million NI payments were not matched to workers' records.
The money that has been collected, but not apportioned accurately to individual taxpayers, is the equivalent to £138 per affected person.
Checks
HMRC said tax payers had nothing to worry about.
It explained that it receives about 48 million P14 forms each year from employers, which contain the details of the tax and national insurance paid by their employees.
"HMRC matches these P14s to individuals' national insurance records," said a spokesman.
"In a small proportion of cases, we cannot match these records because employers provide insufficient details about their employees on the P14."
This might be because of a simple clerical mistake, such as the employee giving the employer an incorrect national insurance number, or a number or digit being entered wrongly on the P14.
In these cases the NI contributions are placed in a separate account while the HMRC staff try to match the records and sort out the problem.
"This will involve contacting the employer and getting them to correct the mistake, or if that's not possible we will write to any employee when a gap in NI contributions appears in their records," HMRC said.
The department stressed that no-one would lose any state pension because it wrote to people if there was a gap in their NI records.
The Department for Work & Pensions (DWP) also writes to them when they are approaching retirement, inviting them to get a pension forecast and to check their contribution records.
"People can always check their P60's annually, it's the employee copy of the P14, if the national insurance number is correct then their record is being credited," said the HMRC spokesman.
Income tax
Last year, HMRC integrated various tax databases, allowing it to identify incorrect PAYE codes.
The move means that in future the tax authority should be able to adjust individuals' codes immediately as their circumstances change.
However, the systems integration also enabled HMRC to spot previous PAYE errors made over several years, leading to tax refunds or additional tax claims for several million individuals.