Davos 2011: World leaders consider 'new reality'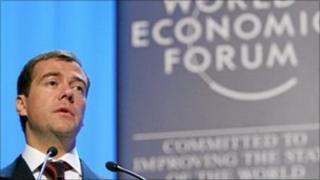 Russia's President Dmitry Medvedev will go ahead with his trip to the opening of the World Economic Forum in Davos, despite the bomb attack in Moscow.
The president is expected to send a message of defiance to the attackers, and attempt to woo Western investors.
Business leaders meanwhile have been discussing "the new reality" after the financial crisis.
The mood is expected to be much more optimistic than in the past two years, with many expecting a boom in 2011.
A survey of chief executives published on the eve of the annual event suggests that business confidence is nearly as strong as before the start of the global financial crisis. Some economists coming to Davos will argue that the world economy is set for long-term growth.
The organisers expect more than 2,000 of the world's top business and political leaders to come to the Swiss mountain village, where they will be joined by journalists, social entrepreneurs, religious leaders and stars like rock singer Bono and opera singer Jose Carreras.
Actor and film director Robert de Niro pulled out at the last minute due to "personal reasons".
Re-balancing
At the forum's opening debate - called "What is the New Economic Reality?" - Sir Martin Sorrell, the boss of advertising giant WPP, was confident things would get better this year.
"If you pump $12 trillion into the world economy, there has to be a rebound. That's what happened in 2010," he said.
"2010 was about bouncing back. 2011 will be more balanced and more back to where we were."
But Ernst & Young chairman and chief executive James Turley said he feared global co-operation was "going to get harder not easier", and trade protectionism could creep in.
The panel, which also included Min Zhu, special adviser to the International Monetary Fund, Azim Premji, chairman of India's Wipro Ltd and economics professor Nouriel Roubini, known as "Dr Doom" for his pessimistic forecasts, also broadly welcomed the austerity steps proposed by US President Barack Obama in his State of the Union address on Tuesday.
President Obama offered corporate tax cuts and a five-year freeze in some domestic spending.
But Nouriel Roubini said the measures did not go far enough. "Even what the president proposed last night in the State of the Union is not going to go in the direction of significantly reducing the budget deficit," he said.
Russian challenge
The attraction of Davos is underlined by the fact that President Medvedev is coming here despite Monday's airport attack, which killed 35 people and injured 110.
"Due to this tragedy my programme in Davos has been significantly reduced," he said in an interview published in Russian daily Vedomosti.
"Our task is to promote the opportunities of our country. We really do want investment, we want a swift restoration of economic growth after the crisis."
The five-day conference - from Wednesday to Sunday - gives the president a global stage to set out his case against the attackers.
This week's events may also protect him from challenging questions about the recent second jail sentence for former business tycoon Mikhail Khodorkovsky.
A raft of other European leaders will also try to make their mark on the agenda. German Chancellor Angela Merkel, buoyed by a strong domestic economy, is likely to outline her plans for the eurozone, while French President Nicolas Sarkozy will find it a challenge to follow up his speech last year in Davos - a passionate bashing of bankers and Anglo-Saxon style capitalism.
UK Prime Minister David Cameron is also set to come to Davos, accompanied by his deputy Nick Clegg and Chancellor George Osborne.
Austerity, bubbles and digital worries
Five big themes are dominating the Davos agenda:
How will the rise of India and China alter the global balance of power?
How can Western economies cope with debt, austerity, joblessness and potentially years of low growth?
Will rapid economic growth in emerging economies trigger run-away inflation, and could it lead to dangerous bubbles? Economists at IHS Global Insight already compare China's property market to that in Japan before the big crash of the early 1990s.
How are digital media and technology changing not just whole industries, but human society?
And as the enemies of the World Economic Forum (WEF) seem to have disappeared, the capitalists in Davos have to be their own best critics, with a series of sessions examining the failings of the global economic system - from poverty to inequality, resource problems and green issues.
A Wikileaks offshoot, called OpenLeaks, wants to challenge the Davos crowd by setting up an online postbox for whistleblowers. But the WEF even has a session for that, entitled "confidentiality or transparency - the Wikileaks dilemma".
Trendspotter or behind the curve?
A popular topic at Davos is whether the event "will get it wrong again" - as in 2007 and even 2008, when many business leaders failed to sport the imminent financial and economic meltdown.
"They always seem to be a bit behind the curve here," says Rajesh Shah, managing director of India's largest specialist steel manufacturer.
That may be true, but the organisers can console themselves with the fact that the rest of the world tends to get it even more wrong than the Davos consensus.
At least on the social media front, the forum barely sets a foot wrong. Hundreds of participants are tweeting, young video bloggers have been invited to Davos to record their impressions, questions for global leaders are crowdsourced via YouTube and social networks.
Lobbying...
The World Economic Forum, however, serves a purpose that to participants is much more important than the official sessions.
It is a chance to network, strike deals - and to lobby. India this year has sent a 135-strong delegation to Switzerland.
It's mission: tell the world that India is a very different economic story to China.
India is misunderstood, says Hari Bhartia, managing director of lifesciences and retail conglomerate Jubilant Bhartia, and currently the president of the Confederation of Indian Industry.
Every job outsourced to India creates or sustains two higher-value jobs in the United States, he says.
Clearly rankled by comparisons with China, he reels off the numbers: India's economy is driven by domestic demand, and as a result runs a small trade deficit overall; its trade with the US makes up just 1% of the country's trade deficit, while China accounts for 43%.
His own company, meanwhile, invests heavily into research and development, and does drug discovery work for some of the West's top pharmaceutical firms.
Others do their lobbying more discreetly. The president of a very large private equity group - whose company does not allow its executives to go on the record - speaks of a week filled not with meeting existing business contacts.
Instead he wants to explore new people, companies, regions and topics "where we would like to do business, where we might want to achieve a broader footprint".
... and partying
All this is best done during the numerous dinners, receptions and parties held in the many luxury hotels sprinkled all over Davos.
It makes for excellent networking, some discreet deals, but also for little sleep. Davos man, though, is used to and well-prepared for such rigours.