US house prices 'hitting new lows'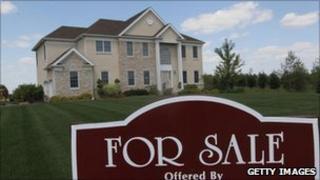 House prices in many US cities hit new post-bubble lows in November, according to a widely-followed market survey.
Prices have been declining across the country since last summer, following the expiry in April of a homebuyer tax credit that temporarily boosted sales.
Eight cities saw prices reach their lowest levels since peaking in 2006-07, with prices in Las Vegas 58% lower, according to the Case Shiller index.
The index is 31% below its 2007 peak, and fell 0.5% in November.
Double dip
The US-wide 20 city index, published by rating agency Standard and Poor's (S&P), is slightly above the low reached in spring 2009.
"With these numbers more analysts will be calling for a double-dip in home prices," said David M Blitzer, index committee chairman at S&P.
At just 3.3% above its April 2009 low, the rating agency said the 20 city composite index could be plumbing new depths by this spring.
Some of the other worst-hit cities include Detroit (down 48% since its peak) and Miami (down 49%), according to analysis by Bill McBride of the Calculated Risk blog.
During the second leg of the housing downturn, since last summer, Chicago and Atlanta have suffered badly.
However, California is one of the few markets to have weathered the last six months well, with home prices in San Francisco, Los Angeles and San Diego unchanged or slightly rising in the last two years.