Davos 2011: World leaders struggle to rebuild trust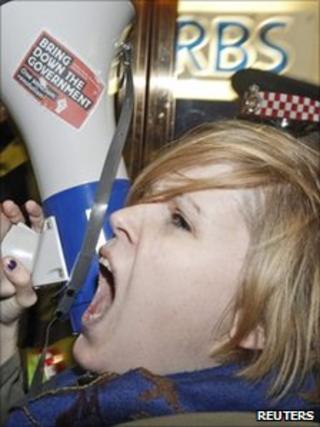 Public trust in business, governments, non-governmental organisations and the media is slow to rebuild, according to the Edelman Trust Barometer.
Trust in business and governments, starting at a low level, showed "marked resilience", the PR firm says.
The United States are the exception, where trust fell sharply last year.
Chief executive Richard Edelman said scepticism had "increased as a result of the systemic impact of corporate and government crises".
While trust in business had "stabilised globally," its nature had changed, Mr Edelman said. Trust was now "different and conditional, premised on what a company does and how it communicates".
Companies 'must deliver'
In other words: if a company makes a mistake, it can lose the backing of its customers in an instant.
And once trust has been lost, distrusted companies are finding it increasingly difficult to regain trust.
"Trust has transformed the licence to operate for business," said Mr Edelman. "Company actions must deliver on the expectations for a collaborative approach that benefits society, not just shareholders."
The survey will provide food for thought for the business and political leaders coming together in Davos, where issues such as trust and corporate credibility are high on the agenda.
Unsurprisingly, 61% of those polled for the survey want government to regulate companies so that they have to behave responsibly.
In the UK and Irish Republic, countries that suffered massive failures of their banking systems, 82% support regulation.
According to the survey, internet search engines are the first stop for people who want to know more about companies, followed by news websites and other media.
In the US we trust - not
While trust may have held steady elsewhere, in the United States, public trust has suffered a collapse, falling eight points to 46%, with trust in the government at a mere 40% of those polled.
That puts the United States near the bottom of the 23 countries polled. Just three years ago, the US was in the top four.
Unsurprisingly, trust in US banks has evaporated, down from 71% in 2008 to a mere 25%.
Edelman polls for its trust barometer more than 5,000 "informed" people from the upper end of society - college-educated, household income in the top quarter, and regular consumers of business and other news.
And they are slowly running out of people that they can trust. Academics and technical experts are perceived to be most credible.
Chief executives make a surprise recovery, with 50% describing them as credible spokespeople. That puts them in the second-highest slot, after a year spent in the bottom two.
Companies can also hide under the umbrella of their home country. The four most-trusted countries for multinational firms to base their headquarters in are Germany, Canada, Sweden and Switzerland.