Davos 2011: Business confidence near pre-crisis level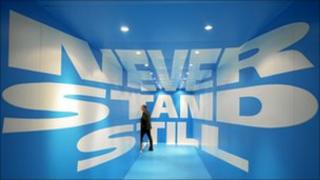 Business confidence around the world has returned to pre-crisis levels, a survey by accounting firm PwC suggests.
Just under half of all bosses polled are very confident their business will grow in 2011, up from 30% a year ago.
The survey, released at the start of the World Economic Forum (WEF) in Davos, shows that most executives expect demand in Asia to drive growth.
"CEOs have emerged from the bunker mentality of surviving the recession," said PwC chairman Dennis Nally.
Business bulls
Confidence levels - with 48% being very confident and only 12% showing no confidence at all - are only four percentage points below the the peak in January 2007, a few months before the global credit crunch started.
While confidence levels are up in all regions of the world, the most bullish chief executives can be found in India, China, Thailand, Colombia and Paraguay.
Western European bosses are the least confident, with the exception of Austria and especially Germany, where a stunning 80% of top managers are "very confident" about their companies' performance.
The survey confirms the prediction of one high-powered hedge fund manager at last year's World Economic Forum in Davos, who said that 2010 was the year for investments, while "2011 will be the year to make money".
Some of the economists coming to Davos go even further. Gerard Lyons, chief economist of Standard Chartered - a bank with most of its operations in emerging economies - predicts that the world is about to enter a super-cycle of high economic growth that could last decades.
Not everybody agrees, though. While things are undoubtedly looking up, the WEF itself warned in its recently published Global Risks report that recovery could be fragile and that the world was ill-equipped to cope with another financial crisis.
Hotspots
While business strategies are once again focused on growth, few companies expect on their home market to grow in the short term. Just a third believe that their own country holds high economic potential.
Instead, they bet on emerging markets like Asia, a region that 90% of bosses expect to deliver growth, followed by Latin America, Africa and the Middle East.
"Any industrial company - if they're going to be a global leader - has to have a large presence in emerging markets," says Ed Breen, chief executive of US conglomerate Tyco International.
Bosses from emerging economies agree. "Earlier, Europe and the US were our major export markets. Today, they are minor markets for us and the Latin American and African markets have become more important," reports Sajjan Jindal, managing director of India's JSW Steel.
Still, the expectation of growth translates into investment and jobs in most countries (apart from the Netherlands, although the small size of regional samples may distort the picture).
Just over half of the CEOs polled by PwC plan to hire new staff during the coming year, up from 39% year ago, while just 16% expect to cut jobs.
However, there is a shift in where the jobs will be created.
Juha Rantanen, chief executive of Finnish firm Outokumpu, says one of his "big issues" is that "our European-based customers are moving many of their operations off-shore". Outokumpu has to follow, and has just built a service centre in Shanghai.
Trouble spots
Governments' budget deficits, volatile economic growth, over-regulation and skills shortages top the list of threats that worry chief executives.
Also on the list are fears of political instability and a shortage of natural resources, as well as climate change.
Surprisingly, inflation is listed by just a third of bosses as a concern, despite sharp prices rises in India and China, and soaring prices for commodities from iron ore to coffee and cotton.
For the survey, PwC interviewed 1,201 chief executives in 69 countries during the last three months of 2010.