UK firms eye Brazilian sporting contracts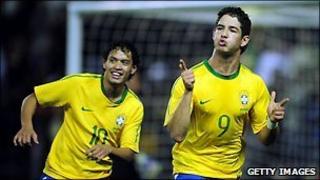 A new initiative to help UK firms benefit from the sports business potential of Brazil has been launched.
Brazil is host to both the 2014 World Cup and 2016 Olympics, and in coming years it will be a major focal point for the global sports industry.
The Brazilian Chamber of Commerce in the UK is joining with private firm Major Events International (MEI) to assist with access to this market.
It is hoped the move will give UK firms a greater sports presence in Brazil.
The move is being supported by two major London 2012 executives - Paul Deighton, chief executive of Locog, and ODA chairman John Armitt.
Infrastructure
Chairman of the Brazilian Chamber in the UK, Jaime Gornsztejn, said he saw the move as an "important development" which would allow British and Brazilian firms to "share our mutual experience of major events".
Firms supporting the initiative are law firms Berwin Leighton Paisner LLP and Noerr, and consultants KPMG.
There is widespread Brazilian involvement, including Brazilian National Development Bank (BNDES), which is currently financing all 2014 World Cup stadiums.
Others include fellow Brazilian bank, Bradesco, which in December signed up as official sponsors of Rio 2016, and the Brazil tourism office Embratur.
Further input is provided by Rede Record, broadcaster rights holder of London 2012 and Rio 2016, and the TAM airline - which sponsors the Brazil national teams.
It is hoped to ultimately carve out opportunities in the sponsorship, infrastructure and procurement, renewable technologies, security, and legacy sectors.
'Knowledge transfer'
Brazil is only the third country, after West Germany in the early 1970s and the US in the mid-1990s, to host both events in succession.
However before it steps into the limelight the Olympics will be staged in London in 2012.
And with the Commonwealth Games being held in Glasgow in 2014 Rugby Union world cup in England in 2015, British firms have potentially much to offer Brazil.
MEI boss Dennis Mills said the new initiative would "enhance communication and transfer of knowledge" between firms in the two nations.
Brazil has been fortunate in that its economy has escaped the worst of the global economic downturn.
And much of its GDP growth over the coming years will be boosted by sports infrastructure projects.
Brazil hopes that the World Cup and Olympics will be a catalyst for the nation's economy, as the sport, tourism, transport, telecoms and construction sectors all receive a boost.