Harley-Davidson cuts losses sharply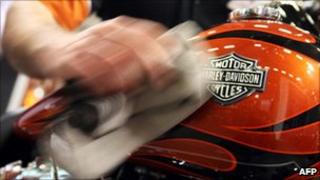 Harley-Davidson, maker of motorcycles with names such as Fat Boy and V-Rod, cut its losses sharply in the last three months of its financial year.
A net loss of $46.8m (£29.6m) for fourth quarter compared with a $218.7m loss in the period last year.
The improvement was mostly due to restructuring and a strong performance from Harley's financial services division.
For the full year, global motorcycle sales fell 8.5% to 222,110 units.
However, the number of motorcycles Harley shipped to dealers in the last quarter rose 24% on the year as sales outlets started replenishing stock.
The company would have made a profit for the quarter without a requirement to repay $85m in loans.
Revenues for the quarter rose nearly 20% to $917m.