Heating oil and 'off-grid' energy market probed by OFT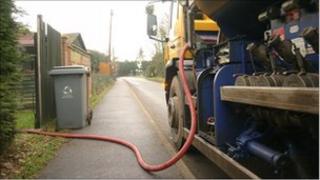 The market for heating oil and other "off-grid" forms of energy is to be investigated by the Office of Fair Trading (OFT).
The study has been brought forward by the OFT in response to "increasing public concern" and will look at competition in the sector.
"Off-grid" energy includes oil, liquid petroleum gas and solar energy used by people not on the main gas supply.
About 2.5 million people in the UK use "off-grid" energy.
Rising prices
The OFT wants to see if customers have a proper choice of suppliers, with competitive prices and fair terms and conditions.
The price of liquid fuel has shot up by 49% in the past year, according to figures from the Office for National Statistics (ONS).
"Two and a half million people rely on off-grid energy and it is vital that the markets that supply them function as well as they possibly can," said Heather Clayton of the OFT.
"We will be taking both competition and consumer issues into account through this comprehensive look at the market," she added.
The inquiry will start in March and finish in the autumn.
"Every consumer has faced a freezing winter and higher energy prices but those not on the gas network have been hit particularly hard," said Andrew Hallett at Consumer Focus.
"Before Christmas, heating oil prices rocketed, bringing into sharp focus problems with this market," he added.
The OFT investigation was also welcomed by the Energy Minister, Charles Hendry.
"Many off-grid energy consumers have been hit hard by high prices and supply issues this winter," he said.
"I am keen the reasons for this are thoroughly investigated."