Macau's Stanley Ho in family row over casino empire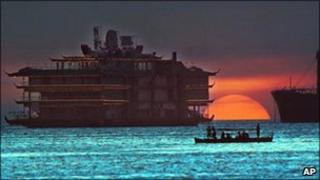 A row has erupted between an ageing billionaire and his family members over who should control the company that handles the bulk of his wealth.
Stanley Ho, 89, has built up Asia's largest group of casino operators in the southern Chinese enclave of Macau.
His lawyer told the BBC that the tycoon regards a transfer of shares to his third wife and the children of his second wife as "robbery".
But members of his family say the transaction was authorised by Dr Ho.
Dr Ho is a household name in China - a billionaire who has been married four times and had 17 children.
In the 1960s, with his partners, he successfully bid for the monopoly rights to open casinos on the then Portuguese territory of Macau.
Over more than 40 years, he has built up a business empire that now operates 20 casinos and also includes extensive real estate holdings, banking and transport interests.
The twists and turns of his colourful private life and long and successful business career have been played out on the front pages of the region's newspapers for decades.
This latest chapter is no different.
'Surprised and disgusted'
The tycoon's lawyer in Hong Kong, Gordon Oldham, has told the BBC Dr Ho was "surprised and disgusted" to hear news that shares in the company that controls much of his wealth had been transferred to his third wife and the children of his second.
The casino operator SJM, which is based in Macau, had announced on Monday that Dr Ho had handed over his shares in the firm that is its biggest shareholder, Lanceford Company Ltd, to family members.
Lanceford in effect controls the bulk of his wealth invested in the casino business and other assets.
Dr Ho suffered a fall two years ago and was in hospital for seven months with a head injury, but his lawyer Mr Oldham insists his wealthy client is in full command of all his faculties.
Mr Oldham met Dr Ho on Tuesday to discuss the ultimatum he had issued to family members - that the shares transaction should be reversed by Wednesday or legal action would begin against them in the High Court in Hong Kong.
Signed off?
But representatives for the members of Dr Ho's family are mystified by the claims of Dr Ho's lawyer.
In a statement, the shareholders of the relatives' holding company, Lanceford, insisted that all steps relating to the issuance of shares in the firm "were approved or authorised in writing by Dr Stanley Ho".
They also released a letter sent to Dr Ho earlier this month by his daughter Daisy, one of the recipients of the shares, two days after he had written to her complaining about the transaction.
The letter appears to confirm he was aware of the deal and had signed it off.
In the letter, she says she is glad that any misunderstanding there might have been has been cleared up.
She says that she is "grateful that you reaffirmed your instructions to gift the… shares to [family members] to preserve harmony within the family".
In the statement, Lanceford's shareholders threaten to take their own legal action against Dr Ho's lawyers, accusing them of "rushing to publicise these matters without checking the underlying facts in connection with the relevant transactions".
The letter would seem to contradict Dr Ho's claim on Tuesday via his lawyers that this was in his words "robbery".
Courtroom drama
But Mr Oldham said he had videotaped his client's instructions and that the tycoon was giving the family another 24 hours to clear up the matter, or else he would issue proceedings against them in court.
"It would be a shame if Dr Ho were to become embroiled in a courtroom drama in his twilight years," Mr Oldham told the BBC, "but he's fully prepared for that if necessary."
Dr Ho has fought with members of his family in the courts before, most famously with his sister Winnie over the control of his assets.
The developments would seem to throw into turmoil the ageing patriarch's plans to hand over power to his 16 living children by his four wives.