Ericsson posts strong results on back of smartphones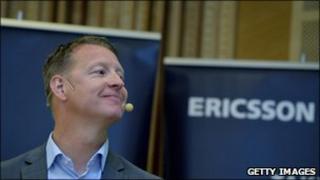 Telecoms giant Ericsson has posted strong results on the back of consumer demand for smartphones, such as the Apple iPhone.
Telecoms operators bought more broadband network equipment from Ericsson to cope with the increased data traffic caused by such devices.
Sales at the Swedish firm grew to 62.8bn kronor ($9.6bn; £6bn) in the quarter.
This was an 8% rise in revenue for the mobile network manufacturer.
Chief executive Hans Vestberg said sales were "mainly driven by a strong development in mobile broadband".
Net profits in the fourth quarter were 4.3bn kronor, against 725m kronor for the same quarter a year ago.
"It is the first time in many quarters where you can see growth in the company, which one almost couldn't have expected... that is important," said Greger Johansson, an analyst at Redeye.