Hornby issues profit warning as cold weather hits sales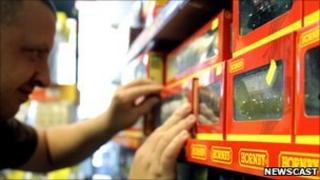 Model train maker Hornby, which also owns Scalextric and Airfix, has warned its profits will be below forecasts after cold weather hit Christmas sales.
It added that the lower-than-expected sales in the run up to Christmas meant stores were unlikely to order as much fresh stock in the next few weeks.
However, it described the poor weather as "almost certainly a one-off event".
December's severe weather hit trading at many retailers, as consumers struggled to get to the shops.
Hornby added that while the supply problems that had hit its European business during the first half of its financial year had improved, it would not be able to "recover the ground lost" in that period.
"The company therefore expects the pre-tax profits in respect of the year to 31 March 2011 are likely to be below current market expectations," Hornby said.
Shares in Hornby ended the day down 8.2% at 126.25 pence.
However, Hornby chairman Neil Johnson said the firm continued to "see significant growth potential in many of our markets".
The firm also said it had an "encouraging pipeline" of new releases for the new year, including a range of Scalextric products to tie in with the new Disney/Pixar movie, Cars 2, and a range of Corgi merchandise for the 2012 London Olympics.