News Corp's BSkyB bid given more time by Hunt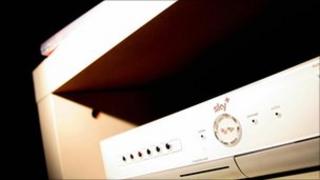 The Culture Secretary, Jeremy Hunt, has said that he intends to refer News Corporation's bid for BSkyB to the Competition Commission.
But he has given News Corp extra time to address concerns he has regarding "potential threats to media plurality".
These concerns were identified in a report by the media watchdog Ofcom, which also recommended referring the merger to the Competition Commission.
News Corp already has a 39% stake in BSkyB and is trying to buy the rest.
It also owns UK newspapers the Sun, News of the World, the Times and Sunday Times.
The media group made an approach in June to take full control of BSkyB, but Business Secretary Vince Cable stepped in to refer the deal to Ofcom on public interest grounds.
However, the responsibility for a final ruling on the proposed merger has since passed to Mr Hunt, after Mr Cable was recorded by undercover journalists saying he had "declared war" on News Corp's owner, Rupert Murdoch.
Meetings
Mr Hunt has now published Ofcom's report on News Corp's bid, which had been issued to the Department for Culture Media and Sport on the last day of 2010.
He also published communications between his department, News Corporation and BSkyB, and said that he had met News Corp and Ofcom in the first two weeks of January.
"As a result of these meetings and my consideration of the Ofcom report and subsequent submissions from the parties involved I still intend to refer the merger to the Competition Commission," Mr Hunt said in a statement.
"On the evidence available, I consider that it may be the case that the merger may operate against the public interest in media plurality."
However, he went on to say that it was right that he should consider any actions taken to remedy the competition concerns raised by Ofcom.
"News Corporation says that it wishes me to consider undertakings in lieu which it contends could sufficiently alleviate the concerns I have such that I should accept the undertakings instead of making a reference. It is appropriate for me to consider such undertakings," he said.
His statement did not say what these undertakings might be.
Concessions?
However, Steve Hewlett from BBC Radio 4's Media Show said options under consideration by News Corp could include selling some of its newspapers, selling Sky News or - perhaps more likely - finding some kind of legal framework to isolate Sky News from direct editorial influence from News Corp.
He added: "I think the process is reasonably advanced because the first letter that Jeremy Hunt sent to News Corp saying that he was thinking he was going to refer it [to the Competition Commission] was on 7 January, so the meetings they've had since have been about trying to thrash out some undertakings to remedy Ofcom's issues."
The BBC's business editor, Robert Peston, says that News Corporation will be be keen to avoid a referral to the Competition Commission, as time is of the essence if it wishes to complete the takeover at a price it deems acceptable.
There is a risk that the value of BSkyB could go up by so much in 2011 that its directors could demand a price that News Corp either could not or would not pay, our correspondent says.
Therefore it is likely to "swallow its pride and make credible concessions", he says.
Interested parties
Other media outlets criticised Mr Hunt's move, which opens the door for News Corp and the Secretary of State to cut a deal that avoids the need for a Competition Commission review.
"The process outlined today is unprecedented," said a spokesman for the alliance of news organisations, comprising the Guardian, the Telegraph, British Telecom, Trinity Mirror, Northcliffe Media and Associated Newspapers.
They claimed it denied them the opportunity to put forward their own case against the buyout, before the Secretary of State makes a decision about any concessions proposed by News Corp.
"This takeover affects the entire media industry, and all interested parties must be able to participate."
They also called on Mr Hunt to urgently clarify the timings for the proposed decision-making process.