Siemens' profits beat forecasts with 17% rise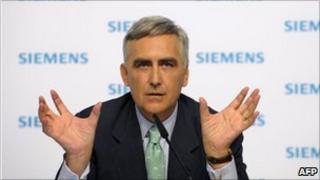 Siemens beat analysts' forecasts for its first quarter profits, helped by strong demand from fast-growing emerging economies.
The German engineering group, one of Europe's biggest, said profits from continuing operations rose 17% to 1.79bn euros ($2.44bn; £1.53bn).
Revenues for the period, between October and December, were up 12% to 19.49bn euros.
Siemens is a big exporter to China, Brazil, India and Russia.
Latest data showed German manufacturing orders grew at their fastest rate in 10 months in November due to strong demand from outside the eurozone.
"Orders and revenue grew in all regions, particularly in emerging markets," said Siemens' chief executive Peter Loescher.
Orders from emerging markets rose 31%, and accounted for one-third of Siemens' total orders for the quarter.