Royal wedding: Diana's designers on how the dream faded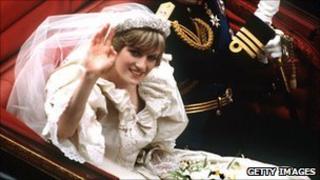 When Elizabeth Emanuel and her husband David were chosen to design the wedding dress for Lady Diana Spencer's marriage to Prince Charles in 1981, they must have felt that their business was assured.
But like the royal marriage itself, there was no fairytale ending for the young designers.
With the next royal wedding scheduled for 29 April, work will already be underway on the dress which Kate Middleton will wear when she walks down the aisle of Westminster Abbey to marry Prince William.
"Whoever designs Kate's dress will be inundated with offers," Elizabeth Emanuel says.
"But it is a two-edged sword, because it is the only thing people ever associate you with," she warns.
"You have to keep saying you do more than royal wedding dresses."
Call to arms
The young designers had only been out of college for a year before they received the telephone call which would change their lives.
"It was incredible. We had hoped that we would get the commission but didn't really think we would because we were against really seasoned designers," says Elizabeth Emanuel.
Her husband recalls: "Don't forget that every designer in the world wanted to get their hands on Diana, and it was a simple phone call from Diana herself who asked if we would do the wedding gown."
When it came to choosing the design, it was a combination of ideas.
"You listen to what they say, what they think, what they feel, but as a designer you bring your own creative ideas as well," he explains.
The couple were given three months to make Lady Diana's wedding dress and they were still working on it right up until the evening before the wedding itself.
"It was incredibly stressful but fortunately we really didn't have time to ponder upon that," Elizabeth Emanuel says.
Mr Emanuel notes: "There was a lot of expectation and formality, she was going in as Lady Diana Spencer and coming out as the Princess of Wales."
The glitter fades
Once they had acquired the right to label themselves By Royal Appointment, everything changed for the designers.
Elizabeth Emanuel reflects that after the wedding they were inundated with suggestions, although at the time it was considered bad form to do anything which might be deemed as capitalising on the royal wedding.
"We had offers to design bed linen and ready-to-wear," she says.
"We got a bit upset about that because we had trained very hard at the Royal College of Art."
After the euphoria of being in the limelight died down, they still had a business to run.
Unfortunately, their private and business affairs ran into trouble and that culminated in David and Elizabeth getting divorced in 1990 and setting up separate ventures.
The wilderness
Whilst her ex-husband set up his own David Emanuel Couture business, she went into partnership with Hamlet International.
To be able to license new products and expand, she assigned them her business and all its assets. Together, they formed a company called Elizabeth Emanuel (EE Plc), which was registered in 1997.
But that company went into administration a few months later. The business and the registered trade mark then went to Frostprint, which immediately changed its name to Elizabeth Emanuel International.
That company employed Elizabeth Emanuel, but she left after one month. Shortly afterwards, the registered trade mark was sold to Oakridge Trading.
Within the space of a few months, she had lost the rights to her name.
Although she took the matter to the European Court of Justice, where she pointed out that somebody might feel deceived if a product had none of her input whatsoever, the court turned down her appeal.
"Consumers are aware, especially in the field of fashion, that a trade name remains associated with the goods or services," a statement from the court said.
"I had massive problems. I lost my brand, my label, even the use of my own name," she says.
The events left her bankrupt and devastated.
Revived career
Elizabeth Emanuel felt as though she was starting off as an unknown again.
She managed to survive by designing costumes for film sets, the Estee Lauder perfume ads featuring Liz Hurley, and participants in the X Factor and Britain's Next Top Model.
In 2006 she set up her new label called Art of Being and things began to look better for her.
"I did London Fashion week in 2010. It was so exciting," she says.
"I do mainly evening wear and red carpet glamour," she says. "But such a business needs expertise and investment for it to take off."
She notes that the Americans are showing renewed interest in her clothes and that there have been 350,000 hits on her website since the announcement of the latest royal wedding.
The announcement of the wedding between Kate Middleton and Prince William has resulted in the Emanuels once again coming into the limelight.
"I cannot believe the number of requests I have had to talk to the media. It is almost like the first time around except this time I can talk to them, whereas I couldn't when we were designing Diana's dress," she says.
"A lot of media attention comes from abroad. I don't think this country appreciates the Royal Family as it should because everybody is just so fascinated by the wedding," she maintains.
When asked what he thinks the new wedding dress will look like, David Emanuel replies: "There is only thing one can be sure of. It is likely to be traditional fabric, traditional workmanship - British all the way through."