French rugby legend Franck Mesnel fashions new career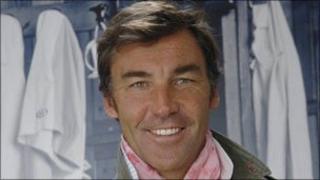 Former French Rugby Union player Franck Mesnel is a dapper dresser, showing the same panache in business as he did playing for his country.
Mr Mesnel, a former architect with a passion for flying, is the founder of the French rugby and leisure clothing brand Eden Park.
The company was founded in 1987 and is named after the stadium in New Zealand where, that year, France lost the first rugby union World Cup final.
In France, the firm competes with the likes of Tommy Hilfiger, Ralph Lauren, Lacoste and Marlboro Classics.
When I meet Mr Mesnel, chairman of the board and chief shareholder in Eden Park, he is immaculately dressed in one of his company's blazers and cravats.
"I have a real passion for clothing, and operationally am in charge of our branding," he tells me.
"I have to be so careful about each new item coming into the company."
He adds: "I am not crazy about money - but I am lucky to have this job, to see all this creation around me."
Champagne
And he explains that the pink bow-tie logo design of Eden Park harks back to the days when he was part of a team backline at Racing Club de Paris, known as "Le Showbizz" for their high-profile stunts.
They would take to the field in fancy dress, sometimes wearing pink bow-ties for big matches, and his team even once drank champagne at half-time.
"We had used the bow-tie, which is quite classy, and a bit James Bond, but without any idea of forming a business," he recalls.
"But then our press coverage got huge, out of control, and myself and four rugby colleagues thought, 'We have got to control this,'" he says.
In 1987, he was in the spotlight on both the sport and news pages in France, and then in the Southern Hemisphere too.
He had played in the French Cup final when France secured the Five Nations' Grand Slam, and he then flew to New Zealand for the rugby World Cup, where his country reached the final.
"Initially we had ideas to use our bow-tie logo to brand wine or champagne," he says, moving his hands about in Gallic fashion.
"But I love colour and design, and wanted to do something that involved this."
Meanwhile, he says the enjoyment in his actual architecture job was lessening.
On his rugby travels to places such as South Africa, Australia and New Zealand, he had seen many people wearing rugby jerseys for leisure purposes, something fairly unknown in France.
So, knowing all about rugby jerseys, he and his colleagues realised they had hit upon what they wanted to do with their new bow-tied fame.
"We made the jerseys of just the right quality, stitching and weight - of 340g I remember," he says.
"Our mascot was the Pink Panther, so we chose this pink colour for our bow-tie logo."
'French touch'
In 1998, the firm was chosen as the official supplier of the French team's formal wear.
Since then, the firm has expanded beyond its French and rugby roots, and has expanded into other parts of the globe and into other leisure clothing and accessories areas.
At present in the UK, there is one wholly owned shop, as well as four franchises and 11 independent concessions.
Most recently, Eden Park was signed as the formal clothing partner for the England rugby union team, having previously signed similar deals with the Welsh national side and a number of European club sides.
"I don't consider us a French company, we are a leading international rugby firm with a French touch," says the 49-year-old.
"We are trying to be 'the one' in rugby - like Lacoste in tennis."
Sporting influences
Despite there not being much obvious overlap between the blood and thunder of international rugby union and chic French clothing, Mr Mesnel insists there are sport lessons for his business.
"There are many similarities between rugby and business - you need motivation in both," he observes.
"I have to be under pressure in my business life, I am built like that, and sport gave me that feeling."
He adds: "I used this rugby strategy of everyone being behind the other person, and that has helped us to push on to become a bigger company."
But he acknowledges that his Paris-based staff cannot be permanently on edge and striving forward endlessly.
He says that during its history, Eden Park has had periods of growth, followed by consolidation.
"I am only using some influence from sport," says Mr Mesnel, who is the most active of the Eden Park founders in the company's affairs.
"At the same time, we are not working in a traditional Latin way either - I am thinking more in an English way.
"We are trying to be rigorous with our processes… and when that is done, then have a beer."
'More to be done'
The firm is looking ahead to a new period of growth, having come through the downturn largely unscathed, although an Eden Park outlet in Edinburgh closed.
"The economic crisis had a limited impact on us," Mr Mesnel says.
As well as 394 French sales outlets, the firm has a presence in 90 outlets around the world including, among other countries, Taiwan, Hong Kong, Dubai, Switzerland, Belgium, Spain, Italy, Poland and the Irish Republic.
"It is very pleasing for me to see that the brand has the potential to fly to other countries," he says.
"But we would be stupid if we did not think there was more work to be done."
And with the rugby World Cup being held in New Zealand again this year, the company is hoping to raise its profile further.
Teamwork
The firm does not have an outlet in the US, but is in talks with a potential partner and would like to have a presence there.
"To be really successful internationally, you have to be successful in the US and Japan, and we are distributing our products in Japan," says the former fly-half and centre.
"But we realise that with the US, we will only have one chance to get it right."
To that end, the firm is working hard in the UK and Spain, so if they do launch in the US, they can show experience of English and Spanish-speaking markets.
Meanwhile, Mr Mesnel says he is grateful for the Eden Park "family" which has grown around him over 24 years.
"I understood quickly I could not do everything myself," he says.
"It was the same in rugby, there were the guys with their broken noses pressed to the ground and making these great passes for me.
"I have to control those great business passes that my Eden Park team is making for me now."