Loan squeeze hits first time buyers harder than others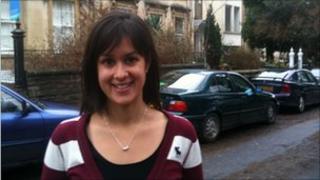 At 30 years old, Dr Penny Quieros feels it is time she bought her own home.
With £25,000 in savings and a job as a junior hospital doctor she has set her sights on a £210,000 two-bedroomed flat in Bristol.
But climbing on the property ladder is proving more difficult than she had hoped.
"I had a chat to a financial adviser, and basically had my hopes and dreams shattered," she said.
"We sat down and went through my wages and how much money I had.
"We compared all the mortgages available on the market at the moment and the repayments on a £185,000 mortgage would be huge for me - about £1,100 or £1,200 a month. It's crippling. I can't do it."
Squeeze
The repayments amount to nearly half her take-home monthly pay. Brokers say the problem is that she only has a 10% deposit.
A bigger one would bring down the interest rate offered by lenders which would make the monthly repayments more affordable.
The financial advisor suggested trying to find a way to boost her deposit to 15%, but it was a route she had been trying to avoid.
"We talked about what I could do about that, and essentially it comes down to asking my parents - which I wasn't keen to do because they have helped me out enough over the years.
"They have put me through university and all the rest of it and I kind of feel that I am at an age when I should be able to stand on my own two feet."
Dr Quieros' difficulties highlight the mortgage squeeze gripping Britain's housing market.
On Friday the Council of Mortgage Lenders (CML) announced that in 2010 total UK mortgage lending had fallen to its lowest level for nine years - down 5% from 2009, and the third fall in three years.
But other mortgage market statistics show that not all sectors of the market have suffered equally.
While first time buyers struggle to gain a foothold on the ladder, figures from chartered surveyors e.surv indicate that wealthier borrowers have hardly been affected.
The number of mortgages on homes up to £125,000 has fallen by 71% since 2007 whereas loans for homes worth more than £750,000 have declined by only 2%.
"The top end of the market has carried on as if the mortgage freeze never happened and the lower you go down the more you see that the mortgage volumes have declined," said Mark Baker, head of research at LSL Property Services which owns e.surv.
'Dysfunctional market'
"So while the overall market is down about two-thirds at this point, the number of mortgages going to people buying the most valuable homes for example over £750,000 has barely changed.
"In fact, there are only 2% fewer mortgages going to that group than there were before the credit crunch began and that's a startling figure.
"If you look at the other end of the market, almost three quarters fewer mortgages are going to people buying homes valued at less than £125,000 so your typical first time buyer."
Michael Coogan is the director general of the Council of Mortgage Lenders - the trade and lobbying body for the industry.
He said: "It is an irony that the people who are least able to afford it are exactly the people who are having to pay more. But that's also a consequence of regulatory changes across the world which mean you have to have more capital to protect yourself against losses with high risk customers.
"We're all frustrated by the fact that this creates a dysfunctional market where first time buyers who want to enter into the market are being prevented."
Housing minister Grant Shapps also expressed concern at what he described as a "worrying" situation.
"I think this is indicative of the market place we have been in where you've got the top level homes, where as you rightly point out the mortgage lending has been continuing," he said.
"But for regular people on regular salaries just wanting to get a foot on the ladder, the mortgage lending just hasn't been there."
That is little consolation for Dr Quieros who has now had the loan conversation with her parents she was so desperate to avoid.
"I don't like doing it because of my pride.
"I have spoken to my parents who, as I knew they would be, were very understanding and said, 'of course, that's what we're here for'."
File on 4 is on BBC Radio 4 on Tuesday 25 January at 2000 GMT and Sunday 30 January at 1700 GMT. Listen again via the BBC iPlayer or download the podcast.