McDonald's profits steady despite bad weather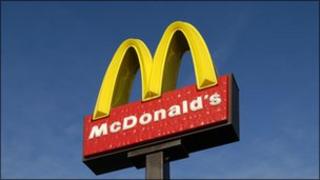 Fast food giant McDonald's has reported steady profits for the final quarter of 2010 despite weaker-than-expected Christmas sales due to bad weather.
Net profit rose slightly to $1.24bn (£777m) from $1.22bn a year earlier. Revenue rose by 4% to $6.2bn.
The world's largest restaurant chain said sales were up by 4.4% in the US and 3.4% in Europe.
But the market had expected stronger sales and McDonald's shares fell 1% in early trading, before recovering.
The chain also warned that food costs were likely to rise this year.
The company said the results came despite "very severe weather" in the UK and Germany during December.
"During 2010 we generated strong sales and delivered profitable market share growth, along with higher global revenues and earnings per share," said McDonald's chief executive Jim Skinner.