Philips shares down despite profits jump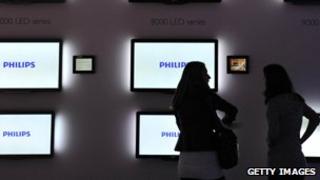 Shares in electronics giant Philips have fallen 5.5%, despite a 79% jump in profits in the last three months of 2010 compared with a year earlier.
The company said that cutting costs had helped its net income rise to 465m euros (£395m; $632m) from 260m euros in the fourth quarter of 2009.
But markets were disappointed by its sales figures, which Philips said had grown by just 2%.
It also said declining profits in its TV-making arm was "a major issue".
Although the value of its sales rose by 2%, this was only positive due to currency movements. Without these, sales would have fallen, Philips said.
Better results in North America and emerging markets such as India failed to offset the decline in Western Europe, where sales fell by 10%.
Emerging markets now make up a third of the company's sales, and it expects them to support growth in 2011 while consumer confidence in developed markets "remains subdued".
Speaking to the BBC, chief executive Gerard Kleisterlee said a recovery in consumer confidence was now key.
"At the end of the day, it is the consumer that is going to bring the economy forward," he told Radio 4's Today programme.
Underlying the importance of emerging markets to its business, Philips also announced that it had bought Preethi, one of India's biggest kitchen appliance makers, for an undisclosed sum.
"This will make Philips the clear leader in this specific, fast-growing segment within the Indian domestic appliances market," the company said.