Germany 'leads' eurozone service sector growth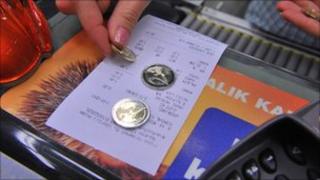 Strong growth in Germany is helping the eurozone's services sector to expand in January, according to early data from a survey.
Markit's Flash Purchasing Managers' Index for the zone rose to 55.2 from 54.2 in December, ahead of forecasts. A reading above 50 means expansion.
But Markit warned that growth in Germany masked weakness in peripheral countries like Greece and Ireland.
"It's becoming a German concentration of strength," said Markit.
The figures marked the 17th month above the 50 level, while Markit's new business index hit a 39-month high of 55.4, up from December's 53.9.
Service sector growth in Germany was 60, a 55-month high.
"The divergence between Germany and the rest of the single currency area has reached a new high," said Chris Williamson, Markit's chief economist.
"Outside of France and Germany, the periphery has now seen new orders fall in four of the past five months."