Ivory Coast cocoa exports 'banned' by Alassane Ouattara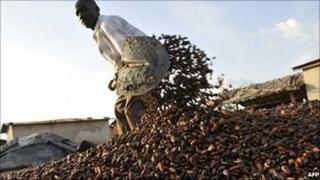 The internationally recognised president of Ivory Coast, Alassane Ouattara, has called for a month-long ban on cocoa exports.
Ivory Coast is the world's largest cocoa producer and it is a key source of revenue for Laurent Gbagbo, who refuses to cede power.
The price of cocoa - already up 14% since November's disputed election - rose about 7% when trading resumed.
Meanwhile, Nigeria has urged the UN to authorise force to oust Mr Gbagbo.
Nigerian Foreign Minister Odein Ajumogobia wrote an editorial published by several local newspapers saying the UN Security Council should pass a resolution to give legitimacy to previous West African threats to send troops to Ivory Coast.
He did, however, stress this would be a "last resort".
Experts say some West African countries would be reluctant to use armed force against Mr Gbagbo.
Mr Ouattara has previously said special forces should remove Mr Gbagbo from the presidential palace but he is also trying to use financial pressure to force him out.
On Saturday, one of Mr Gbagbo's allies was forced to resign as head of the Central Bank of West African States - which manages the currency of eight West African countries, including Ivory Coast.
'Pandemonium'
But it is not clear how far Mr Ouattara's call for a cocoa export ban will be heeded.
"We are getting on with things as usual," the director of an Abidjan-based export firm told the Reuters news agency.
The BBC's John James in the main city Abidjan, says the announcement is causing pandemonium in the international cocoa industry.
Although Mr Ouattara does not control any security forces there who could enforce the ban on the city's ports, our reporter says the call may have some effect with major players in the world cocoa industry.
They will be worried about losing their licences if Mr Ouattara does ever come to power, he says.
And global companies could be concerned about their international reputations if they are seen to be dealing with an administration seen as illegitimate by the world community, he says.
The European Cocoa Association and Federation of Cocoa Commerce said they had not yet decided what action to take.
"We have received communications in relation to the conduct of the cocoa business in Cote d'Ivoire [Ivory Coast] to which we are in the process of responding in order to seek further clarification for our members," they said in a joint statement.
"As can be expected in these circumstances, the trade issues involved in this respect are of a highly sensitive nature and will take time to resolve," they said.
Reuters news agency reports that cocoa prices rose by 7% to reach a six-month high of $3,616 (£2,269) on the Liffe futures exchange when trade opened on Monday.
Ivory Coast produces about a third of the world's cocoa.
The European Union, US and West African states have already adopted various financial sanctions against Gbagbo and his closest allies.
But Mr Gbagbo's allies say any attempts to deprive it of cash are futile.
Spokesman Ahoua Don Mello told journalists: "Isolation cannot work... Those who think that Ivory Coast will be isolated are those who think that [we] have no choice but to operate with them."