Chinese firms look to invest in UK
By Danwei Zhang
Reporter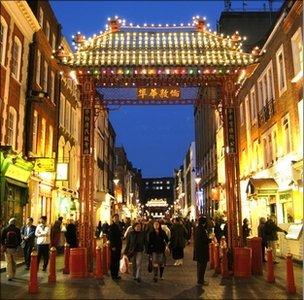 Zhuang Peirui has a problem.
A billionaire from China's Guangzhou province, he wants to make money in the UK, but he is not sure how to enter the market.
"I've been looking for British business partners for a long time, but I still don't know where to find them or how to work with them," he says.
He is clearly not the only entrepreneur struggling in the UK. So far just over 400 Chinese firms have invested in the UK, according to UK Trade and Investment.
It works the other way round. More than 900 UK firms have invested in Jiangsu province alone.
Gao Hucheng, China's international trade representative, is confident that Chinese firms will find their footing.
"China will continue to expand its investment in the UK, and strengthen the cooperation of medium-sized and small enterprises between both countries," he says.
Mr Zhuang, for his part, is still confused. His company makes food products, but he is not sure how to place them on the UK market, and which regulations he has to meet.
"I saw a big potential to develop my business here and I'm eager to invest in the UK," he says.
"That's why I'm here, but I don't know who will be interested in doing business with me."
When Chinese Vice-Premier Li Keqiang visited the UK a few weeks ago, he was accompanied by more than 150 business leaders, most of them billionaires looking to invest in the UK.
They brought their money, their projects and innovations, but struggled to find British partners.
"Chinese investors have two problems," says Dr Wu Kegang, chief China advisor of the British Chambers of Commerce.
"One is they have no idea about the British market and trade environment; they think it is difficult to run a business in Britain - but it's just that they don't understand the market; the other is that they don't know how to build the business channel to promote their innovations, brands and products."
Chinese investors, says Paul Calver of UK Trade and Investment, should ask for more help from the Chinese embassy and trade bodies like the China-British Business Council.
That could help both governments to meet their target of boosting bilateral trade from just $51.8bn in 2009 to $100bn over the next four years.
The UK market does not work for everyone. Some of the Chinese firms selling into the UK market are considering shifting their business back home.
Bobby Wang, chief executive of a Chinese clothing manufacturer, says that he's been trading in the UK for more than 15 years.
"Until several years ago, Britain provided us with a really good business environment, but the golden age is over."
The financial crisis changed all. Consumers started to cut back, and "my company's profit fell 60%."
Since 2009 Mr Wang has moved parts of his business back to China, "step by step", he says and adds that "more competitors from Turkey, India and Pakistan are in Britain now."
He also worries that the UK government's spending cuts and rising inflation will hit the spending power of British consumers.
"My business was completely relying on public consumption. These factors will increase my operating costs. It will cause a lot of pain for my business here, and I'm wondering whether I need to move even more business back to China," says Mr Wang.
From supplier to competitor
Dr Wu at the British Chambers of Commerce believes that this heralds a trend amongst Chinese exporters to the UK.
"British retailers will find that there will be fewer low-cost Chinese products around in the future, because of the UK's shrinking market and rising Chinese labour costs."
British companies, he argues, will take some time to accept that Chinese products are getting more expensive.
And they should watch out, because Chinese manufacturers are starting to develop their own brands, which would turn them into competitors.
Some Chinese firms have already found success in the UK market.
Woon Wing Yip OBE is the chairman of Wing Yip Group, the UK's leading supplier of Chinese and Oriental food.
He is confident about the UK market.
With 40 years experience in the industry, the group managed to increase profits by 23% in the aftermath of the global economic crisis, and continues to grow.
Mr Yip believes that his company's performance has benefited from the UK's stable business environment.
The government has supported his company's expansion for many years.
"It gives me opportunities to go to exhibitions in [mainland] Europe every year," says Mr Yip.
"All government departments provide support for business. When I planned to expand in France, Belgium, Yugoslavia, British trade officials asked the UK embassies in these countries to give us lists of potential business partners and introduced us to them."
Mr Yip has lived in the UK for the past 52 years.
"The UK market may not be as good as before, but it's not bad," he says.
"This country has been industrialised for hundreds of years, and it provides me with a good tax system, a legal system, and effective government."
Related Internet Links
The BBC is not responsible for the content of external sites.