Ex-Vivendi bosses convicted in French court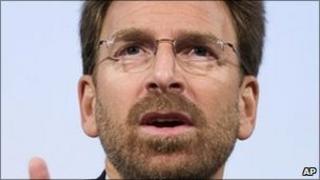 A French court has fined the chairman and chief executive of Warner Music Group, Edgar Bronfman Jr, 5m euros ($6.7m; £4.2m).
The fine relates to insider trading when he was a leading executive at Vivendi. He had denied wrongdoing.
He was given a 15-month suspended sentence as well as the fine.
The court also gave Vivendi's ex-boss Jean-Marie Messier a three-year suspended jail term for his part in the scandal.
Bronfman's lawyer Thierry Marembert said his client would appeal against the decision and "continue to vigorously defend against this charge".
Messier was ousted from Vivendi, where he had been chairman and chief executive, in 2002 after he gave upbeat reports of the group's finances when it was actually 35bn euros in debt.
In 2004, the French stock market regulator fined him 1m euros - later reduced to 500,000 euros.
In January 2010, a New York court ruled that Vivendi had deliberately misled investors about the company's finances but Messier himself was found not liable.
In Friday's ruling, Messier was also ordered to compensate various minority shareholders. His lawyer said he would appeal against the decision.
Two other former executives, Guillaume Hannezo and Eric Licoys, were also given suspended sentences. Three others on trial were acquitted.