General Electric profits lifted by rising orders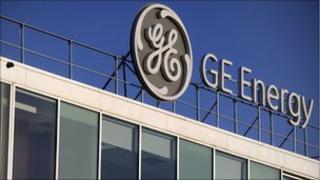 US conglomerate General Electric (GE) has seen a rise in profits after reporting strong growth in equipment orders.
GE made a net profit of $4.5bn (£2.8bn) in the fourth quarter, up 52% on the same period a year earlier, and topping analysts' expectations.
Revenues increased 1% to $41.4bn.
GE is seen as a bellwether for the world economy, given the breadth of its operations, which include a financial arm as well as industrial units.
Orders grew 12% year-on-year, including a 20% rise in equipment orders and a 5% increase in services.
"They had a very good quarter," said Perry Adams, portfolio manager with Huntington Private Financial Group in Michigan.
"Organic growth on the industrial side was good. Orders were strong, backlogs were strong... Their emerging market drive is getting good results."
Peter Cardillo, chief market economist, Avalon Partners in New York, saw the GE results as an indication of better economic times ahead.
"It is sparking a good mood for the market today and for the rest of the earnings season," he said.
"This could lead the market to reverse some losses that we had in the past few days and it gives momentum to the bull trend again."
State visit
This week GE announced several joint venture deals tied in with Chinese President Hu Jintao's state visit to Washington.
These include an agreement with Shenhua Energy Company to help with cleaner coal technology for industrial chemicals and power generation in the country.
The firm is also to work with the Aviation Industry Corporation of China to support the development of China's first, big home-grown passenger jet.
GE has said that it expects profits will be driven by industrial growth in China in the future. The firm's industrial division thinks it could see double-digit growth in revenue from its activities in the country.
Separately, US President Barack Obama is to name Jeffrey Immelt, the boss of General Electric, as the head of a new economic advisory panel.
The President's Council on Jobs and Competitiveness will replace the Economic Recovery Advisory Board that had been led by former Federal Reserve chairman Paul Volcker.