Bangladesh suspends trading firms from stock exchange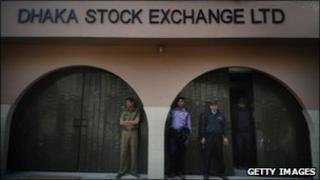 Bangladesh has suspended six trading houses on the main Dhaka Stock Exchange.
The move came after a fall on the index of 8.5%, or 587 points, which forced regulators to suspend trading. This was the second such plunge this month.
Angry investors threw stones at police and smashed vehicles in protest at the suspension of trade.
The Commission has placed a six month ban on the six companies over charges of market manipulation.
"We have found that these brokers have sold huge shares at abnormally low prices just after the market opened," Securities and Exchange Commission member Muhammad Yasin Ali told the Associated Press.