Reactions to Larry Page taking over as Google chief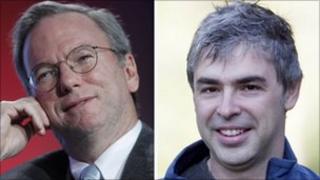 Google has announced that Larry Page is to take over as chief executive of the company in April, succeeding Eric Schmidt.
As one of the two founders, Mr Page had been the boss in Google's early days, but Mr Schmidt was brought into the company in 2001 to take over at the helm.
Here are some reactions to the announcement.
"Day-to-day adult supervision no longer needed!" Mr Schmidt tweeted after the announcement.
The Economist's Newsbook blog said he should have got the job sooner, adding: "Several prominent Xooglers, as former employees of the company are known, have complained that it has become difficult to get things done at the firm. And rivals such as Twitter and Facebook have exploited this growing sense of frustration by pinching talented executives from Google's ranks".
Danny Sullivan from SearchEngineLand.com writes: "When you were last CEO of Google in 2001, the company was a much loved scrappy underdog with a bright future. Things have changed. You're soon to be steering a massive battleship that's taking on water from a number of hits over the years".
Technology pundit Rob Enderle says: "Whenever you have a caretaker CEO, they're supposed to stay in place until the founders have enough experience. Larry had enough experience about four years ago".
Ken Auletta, author of "Googled: The end of the world as we know it", comments: "I don't think Eric [Schmidt] was pushed. I think he jumped. I think Eric is burned out".
Amanda Andrews writing in The Daily Telegraph says: "Google's Larry Page once built an inkjet printer entirely out of Lego. But it remains to be seen if Page is the man for the, at times, mundane role of chief executive".
Bianca Bosker writes in The Huffington Post: "Schmidt has become something of a public relations liability for a company never far from public or regulatory scrutiny. Though the outgoing CEO has apologized for some of his remarks and dismissed others as jokes, Schmidt has nonetheless made headlines with a series of controversial and inflammatory statements about personal privacy".